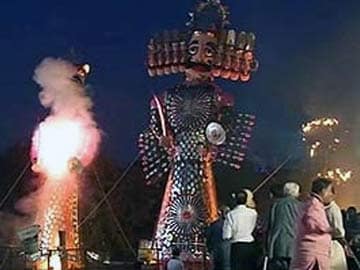 Kanpur:
Over twenty thousand people will worship Ravana at the Dashanan temple in Kanpur for their well-being on the occasion of Dussehra.
The doors of the 124-year-old temple that open once a year on the morning of Dussehra is expected to see thousands of worshippers, the temple organiser KK Tiwari told PTI.
The temple, built in 1890 by Maharaj Guru Prasad Shukl, is situated in Shivala area inside the Kailash Mandir complex of Kanpur.
"Ravana was an ardent follower of Lord Shiva. Thus, the temple is built adjacent to Lord Shiva's temple at Shivala area of the city," said Mr Tiwari.
The Ravana idol is decorated with precious ornaments and thereafter a proper 'aarti' is performed by the priests. And just before the ritual burning of the Ravana effigy in the evening, the temple doors are shut again till the next Dussehra.
The worshippers also light earthen lamps for the prosperity and safety of their family.