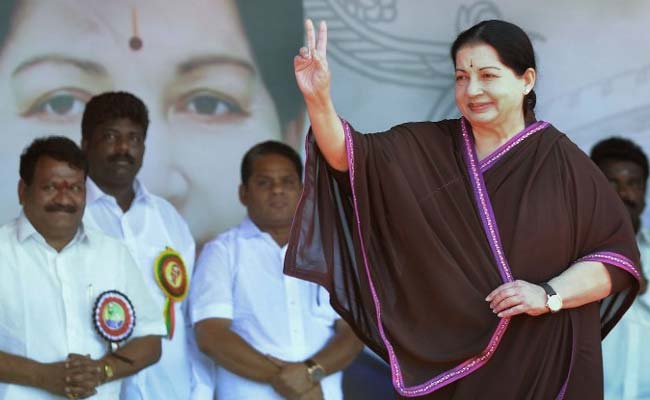 Bengaluru/Chennai:
The
acquittal of J Jayalalithaa in a corruption case
that forced her to step down as Chief Minister of Tamil Nadu sparked wild celebrations by supporters and paved the way for her return to office.
Prime Minister
Narendra Modi called the 67-year-old politician to congratulate her
, said sources. Her AIADMK party is the third largest force in Parliament and she is known to enjoy a close relationship with the PM.
Last September, a court in Bengaluru in neighbouring Karnataka found her guilty of amassing illegal wealth while in office during her first term as Chief Minister in the 1990s. She was sentenced to four years in jail and spent three weeks in prison before getting bail from the Supreme Court.
But Bangalore High Court judge CR Kumaraswamy declared her "appeal upheld" on Monday at today's hearing, which lasted only seconds. The judge said that the charge that the politician had accrued assets disproportionate to her declared sources of income was largely unproven - that it amounted to about 8 per cent of her wealth when she became chief minister, which was "relatively small" and "within the permissible limit of 10 per cent". The judge also said that the prosecution had overlooked hefty loans she had taken from banks and incorrectly mixed her personal assets with that of firms for whom she and close aide Saiskala Natarajan served as Directors (Ms Natarajan was also acquitted today). The judge also said that there was "no acceptable evidence" that in 1995, Ms Jayalalithaa spent nearly three crores on a lavish wedding of Ms Natarajan's son - the prosecution had said the lavish expenditure proved the politician had vast wealth that was undeclared.
"I have not made any mistakes. And despite the charges against me, the court verdict has proved that I have passed the test like pure gold," the leader said in a statement, adding the "prayers of Tamil Nadu people" have been answered.
She was charged with corruption in 1997 when police seized assets including 28 kilos (62 pounds) of gold, 750 pairs of shoes and more than 10,000 saris in a raid on her home.
Prosecutors said her assets, which reportedly included two 1,000-acre estates in the lush tropical state she ran, were vastly disproportionate to her earnings during her first term as chief minister, which ran from 1991 to 1996.