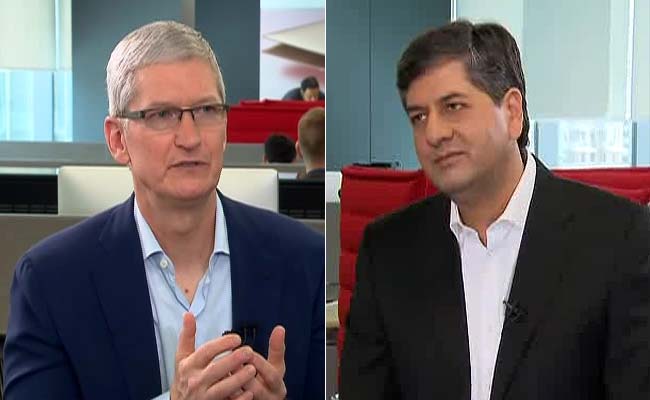 New Delhi:
Apple's ambitious plans to launch branded Apple Stores in India seem to have hit a road block, with reports that the Finance Ministry will not relax the 30 per cent sourcing requirements for those stores.
The Ministry apparently wants the Department of Industrial Policy and Promotion to specify the norms for "cutting edge technology" that can be used to get a waiver, instead of having an Apple-only exception.
In his interview to me last week
, Tim Cook had indicated that the Apple Stores weren't a "done deal" yet, but the rejection will no doubt be a disappointment.
This follows a negative response to Apple's desire to refurbish old phones in India and sell them with a warranty. This, said Cook in the interview, was the first step in Making in India. The government, it appears, would prefer something a bit more ambitious, like a Foxconn factory turning out brand new devices.
So while Tim Cook seems to have thoroughly enjoyed his trip to India, and his encounter with what he called the "warmth of the Indian people", it may well be back to the drawing board when it comes to sketching the blueprint for Apple's grand strategy in India.
Among all the major multinationals, Apple has been one of the slowest to recognise the full potential in India. For years, Mac users struggled to get the most basic of service facilities. Then, for a very long time, India was relegated to delayed launches of any new Apple products. That's starting to change, and it is now clear that India will be one of the key priorities for the company. This is no surprise. With growth in more developed markets slowing down, the prospect of raising the 1 billion dollars in sales in India to something closer to the 50 billion registered in China is irresistible.
However, for this to happen, Apple may need to totally rethink its strategy for India, and build a new plan from page 1.
Let's start with the aspect that has been the key USP for Apple for the past 2 decades - user interface. The whole premise of Apple's success has been tight control over every single aspect of the user interface, from the packaging for the devices to the software that runs on them. This has always been a radically different approach to the more "open architecture" on Android or Microsoft devices, and the approach has led to iconic products and billions in profits.
In India though, the user interface for most users is far from perfect. A number of features on a new iPhone would simply not work - ranging from Apple Pay to Passbook. Other features don't work that well because of poor internet connectivity (including Apple Music and iCloud). Siri often doesn't understand Indian accents. Maps and iBooks aren't as effective as they would be in the US.
And yet, Apple devices are even more expensive in India than they are in the US. Do a simple search on the internet. You can buy an iPhone 6S on Amazon.in for about 48,000 rupees. The same phone is available in the US for $649, which works out to a little over 43,000 rupees.
That's what I asked Tim Cook. How does it work if you are selling the same phone with LESS functionality than in the US, at a higher dollar price than in the US, in a country that has much lower purchasing power than the US?
I also asked him about the other key issue. At present, the basic Apple user interface doesn't reflect the critical reality that most of the subsequent growth in the mobile market is going to be in areas where English is barely spoken. 400 million new Hindi, Tamil, Telugu, Marathi and Kannada speakers will be coming on line in the next few years. What features could Apple offer them?
To his credit, I think he gets the problem, and that's why he's the first Apple CEO to visit India to try to understand the country and figure out what the solution could be.
He has already ruled out some options, such as slashing prices. Although he did admit to me that iPhone prices were high in India, he said there were certain segments of the market that he didn't want to compete in. That's the killing zone where thousands of Android phones compete in the sub 12,000 rupee range.
Cook also met a range of developers, and is encouraging others, who could help build an effective Apple ecosystem. But the problem with relying on outsiders is a potential dilution of the key Apple principle of complete control of the user interface from beginning to end. After all, if you are asking users in India to download a series of third party apps to fully unlock the potential of their iPhones, then that isn't all that different from the Android approach. And we know what the margins are for Android phones!
Actually, if Apple really decides to focus on the country, it isn't that difficult to work out solutions for most of these problems. All they need is a small dedicated team to develop a proper India strategy, and a plan to implement it. The task will be much simpler than building the Apple Car!
But before the grand plans are made, Apple needs to deal with the immediate issues. Those Apple Stores were critical for the company to take charge of the retail experience, and to help showcase the distinctive features of their products. They would have also helped deal with key consumer complaints around servicing standards and non-standard accessories. If the Finance Ministry sticks to its guns, then Apple will to go back to relying on authorised retail partners.
Unless, of course, it decides to take the big gamble of actually setting up a proper manufacturing base here. That, no doubt, is what the Modi government really wants.
iMakeinIndia. What a message that sends!