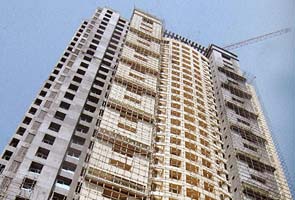 Mumbai:
Four crucial documents have been stolen from the Adarsh Society file that was in possession of the Urban Development Department in Mumbai. A case of theft has been registered and an investigation into the theft is on.
According to sources, the Central Bureau of Investigation found page numbers 15, 27, 99 and 279 of the file missing and notified the Urban Development Department. The CBI had received a copy of the file for their probe into the controversy-hit society. The Urban Development Department then lodged complaint of papers being stolen.
Here's what the missing pages are said to contain:
Signatures of 2 ex-Chief Ministers and senior officials
Environmental clearance given by the Urban Development Department
Clearance to reduce road width
Clearance for the building to encroach on road space
Clearance for construction of additional floors
In its complaint, the Urban Development Department stated that the papers were important notification and correspondence that the department made with various agencies.
Sources tell NDTV that the stolen papers show officials' stand leading to final decision on the society. They were documents in the noting section of the file and are said to have the signatures of the Chief Minister and senior officials on final decision.
The papers are said to be related to the wrong environmental clearance given by the Urban Development Department to the society, which it was not authorised to give, to the reduction of the width of a public road to give more space to Adarsh, and to changing the land reservation from bus depot to residential zone. The file notings relate to the period 2000-2003.
The Adarsh Housing Society Scam
The society in Colaba, a plush locality in Mumbai, was originally meant to be a six-storey structure to house Kargil war heroes and their kin but was later extended to 31 floors allegedly without mandatory permission.
(Adarsh scam: A bigger land-grab plan)
The Adarsh Housing scam has made national headlines over the past few weeks and cost ex-Maharashtra Chief Minister Ashok Chavan his job. Three of his relatives were allotted flats in the high-rise. He was replaced by Prithviraj Chavan.
(Heads roll over Adarsh scam: Chavan out)
Investigations by the media suggest that politicians, retired Army officers and senior bureaucrats colluded to corner flats in the building. The Army is investigating the role of some of its senior-most officers for their alleged role in the scam.
The society's occupation certificate was cancelled by Mumbai Metropolitan Region Development Authority (MMRDA) and its power and water supplies were cut by the civic body on November 3 after it was revealed that the building was constructed in alleged violation of rules. Two months ago, the Navy and Army also objected to the building on the grounds that it will give occupants a clear view of defence installations along Mumbai's coast.