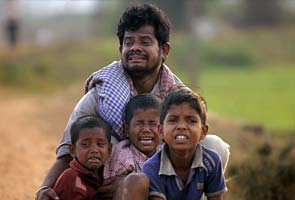 Bhubhneshwar:
At least 29 people died and about 40 others were battling for their lives in hospitals in Odisha after consuming spurious liquor laced with drugs, officials said on Wednesday. A total of 10 people have been arrested.
The victims, mostly poor men from Cuttack and Khordha districts, fell ill on Tuesday after taking the drink that contained drugs used to treat cough and cold and to dress wounds.
Cuttack District Collector SN Girish told IANS that among the dead was Baidhar Bhoi, the brew seller. He was the first to die - on Tuesday morning.
While 13 deaths were reported till Tuesday, 16 died on Wednesday. The toll may not rise further as people admitted to the hospitals were recovering, Girish said.
According to officials, people from several areas had gone to Tukuliapada village in Cuttack district, some 25 km from here, to buy the drink on Monday night.
Some people, including scores of brick kiln workers, were hospitalised after buying the same medicines from different chemist shops in both the districts.
Police launched a crackdown on various chemist shops in different parts of the state to find out if the medicines were still available.
Police also raided factories of two pharmaceutical companies in Bhubaneswar and sealed these for allegedly supplying the medicines to the hooch kingpin and to various shops.
Police said two cases have been registered and 10 people have been arrested. They include three relatives of the kingpin and seven officials of the pharmaceutical companies.
Chief Minister Naveen Patnaik said a judicial commission led by a retired judge of the Odisha High Court will probe the deaths.
Patnaik also reviewed the situation at a meeting in the state secretariat here and directed that all those hospitalised should be provided treatment free of cost. However, no compensation has been announced.
Excise Commissioner Sudarsana Nayak said the medicines used in the brew contained a high percentage of alcohol.
Activists of women organisations and members of opposition parties blocked roads and staged demonstrations in the affected areas to protest the deaths.