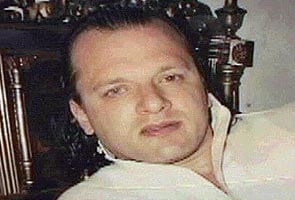 Washington:
Pakistani-American David Coleman Headley, jailed in the US for his role in the 2008 Mumbai terror attack, made his children do military drills in a Chicago park, a media report said.
Headley taught his children maneuvers like rolling into a shooting position, the Chicago Tribune reported.
The observations, made by a counterterrorism officer, became part of the case that was built against Headley, who four months later was charged and found guilty in the Mumbai terror attack and for planning attacks in Denmark, according to officials.
Authorities say the case highlights the dramatic shift in local policing over the past decade. Chicago police are no longer just tracking drug and gang organisations but also terrorists bent on launching attacks here or abroad.
Headley's plot on Mumbai dates back to 2005, when he travelled to India to conduct surveillance for the team of gunmen who carried out coordinated assaults there in November 2008. The attack left 166 people dead.
Headley had changed his name from Daood Gilani in 2006 to bring less suspicion in his travel, authorities said.
In 2009, Headley was living on Chicago's Far North Side.
His plans for another attack, this one in Denmark, were underway, according to federal documents.
By now, he had already twice avoided detection despite two of his wives coming forward with information. US officials have said those tips were not specific enough to launch a probe of a US citizen.
Meanwhile, police were well into a counter-terrorism strategy that had more officers out in neighborhoods trying to gain contacts and information.
The department also had increased its emphasis on training officers to be more alert -- and to document suspicious activities.
At the park, the officer did exactly that, department officials said.
"This really helped ... bring him on the radar," Chicago police Cmdr. Steve Caluris said of the officer's observation.
"We are not saying he witnessed him plotting something out there in the public. He recognized activity that seemed out of the ordinary."
While the maneuvers were what caught his eye, the officer also took note that Headley, who was later linked to a Pakistani terrorism group, was speaking Urdu, the language of that country.
Authorities did not disclose the Chicago park where Headley was seen. The details of his park activities were eventually combined with an independent tip the FBI task force got about Headley, adding pieces to the emerging picture of a possible terrorist.
Chicago police as well as the FBI and other local law enforcement officers worked the case to completion.
In October 2009, Headley, 49, was arrested in Chicago by the task force. He pleaded guilty in March to plotting the Mumbai attacks and one on a Danish newspaper that was targeted for printing controversial cartoons about the Prophet Muhammad.
Headley avoided the death penalty in a plea bargain and is expected to testify against a co-defendant, Tahawwur Hussain Rana.
Officers point to the Headley investigation as a success, but know there are more plots out there to uncover.