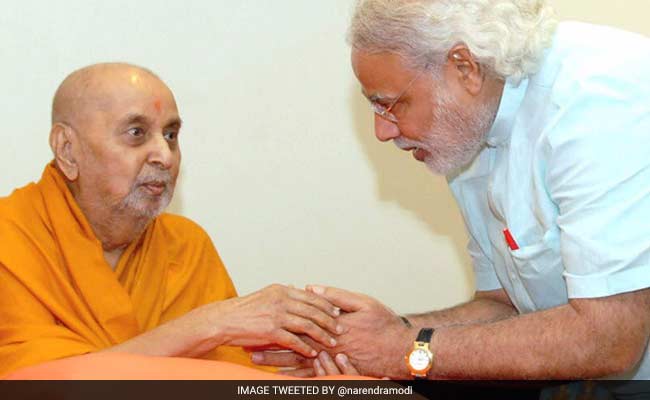 Sarangpur, Gujarat:
Prime Minister Narendra Modi today turned emotional as he paid his last respects to Pramukh Swami, the religious head of the Swaminarayan sect, saying he has lost a fatherly figure.
Recalling his close association with Pramukh Swami, who died last Saturday in Sarangpur, PM Modi called him his "father" as he was twice overcome by emotions during his 20-odd minute long speech made at a temple where Pramukh Swami's mortal remains have been kept.
"Many of you might have lost a guru, but I have lost a father," PM Modi said, as he paused for nearly a minute to overcome the swell of emotions.
Calling him a "combination of grandeur and divinity," the Prime Minister said he knew Pramukh Swami from the time when he was not a public figure and showered praise on him for bringing about reforms in the "saint" culture.
The mortal remains of the head of Bochasanvasi Akshar Purushottam Sansthan (BAPS) Swaminarayan Sanstha, Pramukh Swami Maharaj have been kept at the temple till August 17 to enable devotees and citizens to get a final glimpse.
PM Modi also paid floral tributes to the departed soul.
Recalling a few instances of his "close association" with Pramukh Swami, PM Modi said Pramukh Swami once asked him to address a gathering of saints of the Swaminarayan sect at a temple in Ahmedabad upon which he'd express his surprise, saying what were they (saints) going to gain from him.
"When I said this to Pramukh Swami, he said, no, the saints should know about the social reality as they have to work to take the society in the right direction," PM Modi added.
The Prime Minister also recalled Yogiji Maharaj, who initiated Pramukh Swami into Swaminarayan sect, and said the latter established an example on how a disciple should be.
"We have known Pramukh Swami as a guru. But looking at him, one also understands how a disciple should be," PM Modi said, as he recounted an instance of how Pramukh Swami fulfilled the desire of his guru by constructing the Akshardham temple on the bank of Yamuna river in Delhi.
"Long back, while strolling on Yamuna river bank, Yogiji expressed desire to Pramukh Swami to have a temple constructed on Yamuna bank. It was a desire informally expressed. After he passed away, as a disciple, Pramukh Swami constructed Akshardham to fulfil his desire," PM Modi said.
PM Modi said after he became Gujarat chief minister, Pramukh Swami would ask him for the videos of his speeches which he'd listen and call him up to say that "you should not have used these words (referring to certain words used in his speeches)."
"(Pramukh Swami) taught me things that even my political guru did not teach me," PM Modi said.
PM Modi said Pramukh Swami also knew a lot of things about him through intuition, as he recalled an instance of being called by him to Akshardham temple in Delhi during the time of its construction.
PM Modi said Pramukh Swami knew he had no money in his pocket and asked a disciple Brahmbihari Swami to pay him the money.
"I actually had no money in my pocket at that time," he said.
PM Modi further recalled how he received a call from Pramukh Swami -- and his mother -- in 1992 when he was at Srinagar airport in Jammu and Kashmir after unfurling a tricolour amidst tense situation at Lal Chowk.
PM Modi further said, "Swamiji assured 'Swaminarayan will do all good'. I was amazed in receiving his call and his caring words amidst such tension. The other call that I had received that day was of my mother."
PM Modi also remembered how two years ago he managed to persuade Swamiji to take food when he received a call from his disciples that he had given up on eating and his health was deteriorating.
"He accepted my request and I was told that he has started taking food. Such was the bond that we shared," PM Modi added.
"He always demanded grandeur and did not compromise on it. But as a saint he was divine," PM Modi said.
PM Modi said some time back, he talked to him over telephone even when he was not able to speak properly. He said his words "must have consoled him."
PM Modi also said how former President APJ Abdul Kalam termed him as a main element in the direction of achieving the vision of 2020.
"He (Pramukh Swami) may not be with us today, but his presence will be felt by us all. We will continue to uphold the tradition set by him," PM Modi said.
Meanwhile, thousand of devotees of Pramukh Swami Maharaj continued to throng Sarangpur for a glimpse of his mortal remains from across Gujarat. Pramukh Swami will be cremated in Sarangpur on Wednesday.