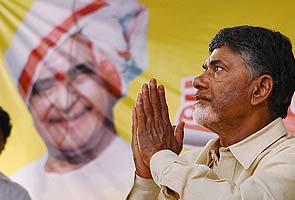 New Delhi:
Politician Chandrababu Naidu, now on the third day of a hunger strike in Delhi, is being asked to relocate from Andhra Bhawan or the headquarters of the Andhra Pradesh state government in Delhi.
The Andhra Pradesh government has complained that the hunger strike is unlawful and cannot be held there; it has asked the Delhi Police to evict Mr Naidu and his supporters. (
Live update
)
The Congress is in power in Andhra Pradesh; chief minister Kiran Kumar Reddy is against those who have censured the centre for deciding to carve out Telangana as its own state. (
In pics: Protests, power outages and two fasts
)
The roadmap for the bifurcation, approved by the cabinet last week, has fomented aggressive protests in the regions of Coastal Andhra and Rayalaseema which are referred to jointly as "Seemandhra"; their 13 districts will form Andhra Pradesh.
(InSeemandhra, lakhs of train passengers stranded)
Mr Naidu has been flayed by political rivals for holding his fast in Delhi, rather than at home, and waffling on the issue of whether he supports the plan for statehood for Telangana, a movement that has sprawled across decades.
His supporters say that by bringing his protest to the capital, Mr Naidu ensures that the central government is forced to acknowledge the wide dissent over its decision, one that the politician has described as "immoral" and aimed at winning votes in Telangana in the national election due by May.
As he launched his fast this week, Mr Naidu, who has served as chief minister, refused to comment on whether he backs the plan to create a Telangana state, stating only that he is opposed to "favouring one child over the other." His supporters say that he wants to ensure that resources like power, water and revenue are distributed fairly between the old and new states.
(Chandrababu Naidu backed new state in 2008 letter: Congress)