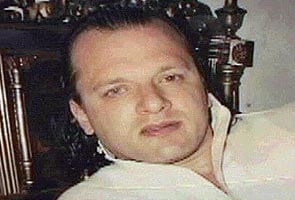 Copenhagen:
David Headley, who helped plan the 2008 Mumbai attacks, had been preparing several attacks in the Danish capital in cooperation with an Al-Qaida-linked group, a Danish newspaper reported today.
Headley, a Pakistani-American who has confessed to helping plot the Mumbai attacks that left 166 dead, has already been charged with plotting an attack on a Danish newspaper that published caricatures of the Prophet Mohammed.
But that paper, Jyllands-Posten, reported today it had seen a classified report from an interrogation with Headley that showed he had also been planning attacks on other targets in Copenhagen.
Headley, who had videotape recordings of the Copenhagen central train station, the city hall and the royal guard barracks in his possession when he was arrested, told investigators he had discussed attacking the Danish capital with one of the world's most wanted terrorists, Ilyas Kashmiri, according to the report.
Kashmiri, who the US Department of Justice says is the operational chief of a Pakistani-based terrorist organisation called Harakat-ul-Jihad-Islami which has links to Al-Qaeda, had met with Headley in Pakistan in May 2009.
"During the meeting I was asked to concentrate my energy on attacking Denmark as quickly as possible," Headley told investigators, according to the report.
He had previously admitted to conducting two "surveillance" trips to Denmark in January and July 2009 in which he toured the Jyllands-Posten offices in Copenhagen and Aarhus "in preparation for an attack," but today's report was the first indication there had been other targets in Denmark.
Headley, the son of a former Pakistani diplomat and an American woman, is being held in the United States where he has confessed to helping plan the 2008 Mumbai attacks.
Jyllands-Posten triggered a furor in the Muslim world by publishing 12 cartoons of Prophet Mohammed in 2005.
Demonstrators burned Danish flags in protests that culminated in February 2006 with the torching of Danish diplomatic offices in Damascus and Beirut and the deaths of dozens of people in Nigeria, Libya and Pakistan.