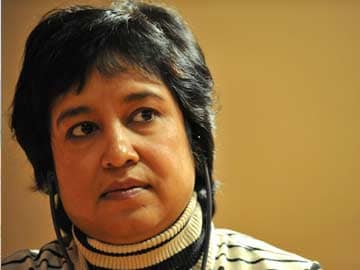 Lucknow:
An FIR has been lodged in Lucknow, Uttar Pradesh, against controversial Bangladeshi writer Taslima Nasreen, after a Muslim cleric of the district alleged in a police complaint that she has "hurt religious sentiments" with her tweets.
Hasan Raza Khan Noori Miyan, whose father Maulana Subhan Raza Khan (Subhani Miyan) heads the famous Dargah-e-Ala Hazrat in Bareilly, filed the police complaint against Ms Nasreen for tweeting on November 6, "Indians should speak up against fanatics who vitiate society and push it backward and politicians who encourage them. Else, it's bad news for democracy."
The author was commenting on a meeting between Arvind Kejriwal of the Aam Aadmi Party and a leading cleric and politician of the area, Maulana Tauqeer Raza Khan, in Bareilly. She also tweeted, "Since independence, Indian politicians have been seeking help of clerics who don't respect human rights,free speech and the Constitution."
Tauqeer Raza Khan had in 2007 endorsed a fatwa or legal pronouncement against Ms Nasreen alleging that her writings were anti-Islam. He had said that she must burn her books and leave India to have the fatwa rescinded.
Ms Nasreen said today that she was shocked to hear that an FIR had been lodged against her. "I do not know what wrong I done with those tweets? I only spoke the truth and once again they are after me," she said.
The 51-year-old also said, "I am shocked to hear this. How can this happen in a democratic country like India where the Constitution guarantees the freedom of speech and expression?"
The author of books like 'Lajja' and 'Dwikhandito', which have provoked controversy, Ms Nasreen was forced to flee from Bangladesh because of threats to her life.