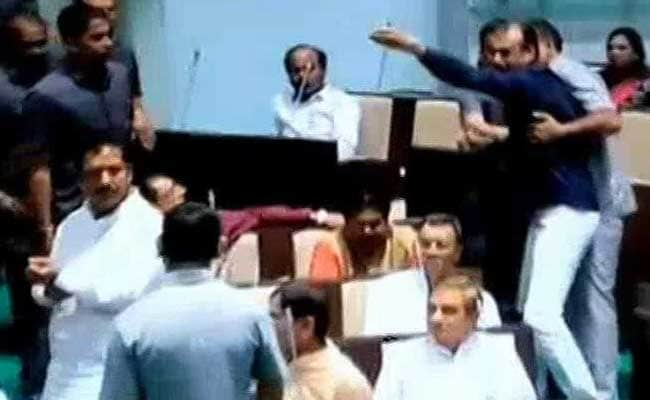 Highlights
Trouble started when Congress's Vikram Madam tried to raise a question
A large number of lawmakers gathered at the centre of the house
Congress lawmaker Pratap Dudhat uprooted a mic and flung it
Gandhinagar:
A Congress lawmaker flung a mic at his BJP colleague as the Gujarat assembly lapsed into utter chaos today.
The trouble started when Congress legislator Vikram Madam tried to raise a question but was repeatedly shouted down. When he allegedly tried to pull out a mic, he was forced out by marshals.
A fierce argument broke out between another Congress lawmaker, Pratap Dudhat, and BJP legislator Jagdish Panchal.
Within minutes, Mr Dudat uprooted a mic and flung it at Mr Panchal.
A large number of lawmakers gathered at the centre of the house and rivals jostled each other before the Speaker adjourned the proceedings.
The Congress legislator has been suspended for the entire session.
Earlier this week, two Congress members were expelled from the Telangana Assembly for disrupting the Governor's speech. One of them, Komatireddy Venkat Reddy, flung a pair of headphones and hit an official in the eye.