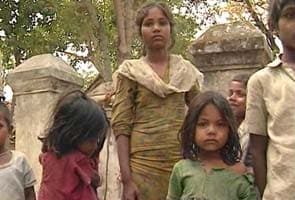 New Delhi:
It must have been welcome news for the government as the newly-released census showed a significant slowing of the population growth rate for the first time in nine decades. But, that hasn't changed anything for the girl child who continues to be at risk.
Despite several policies to protect the girl child, their number below six years of age has fallen sharply.
According to the 2011 census data, in the last decade alone, the child sex ratio has dipped from 927 to 914 per 1000, the lowest since independence. Not just that, the total population of children in general has dipped as well by 5 million.
Poor nutrition and healthcare, rising female foeticide and overall neglect care being pegged as the major reasons for this sharp decline. But, attitude, experts say, continues to be the biggest factor.
"There is a bias against the girl child", says Poonam Mutreja, Executive Director, Population Foundation of India.
The worst-affected areas in terms of sex ratio, according to the census, are western Maharashtra, western Uttar Pradesh and Rajasthan.
The continuing decline in the number of girl child has also got the government worried.
"We did a complete review of the policy we are following because we are not able to arrest the decline in the child sex ratio. I think that is really the message. Whatever major steps that have been put in the last 40 years has not had any impact in the child sex ratio and therefore it requires complete review. Every policy measure has to be looked into at the central government, state government and at the panchayat level", said GK Pillai, Union Home Secretary.
Even though the sex ratio has improved for the adult population from 933 to 940 women per 1000 men, experts say, millions of women are still missing.
It's a grim scenario that requires an urgent review of the government's population policy and as well as the safety of women.