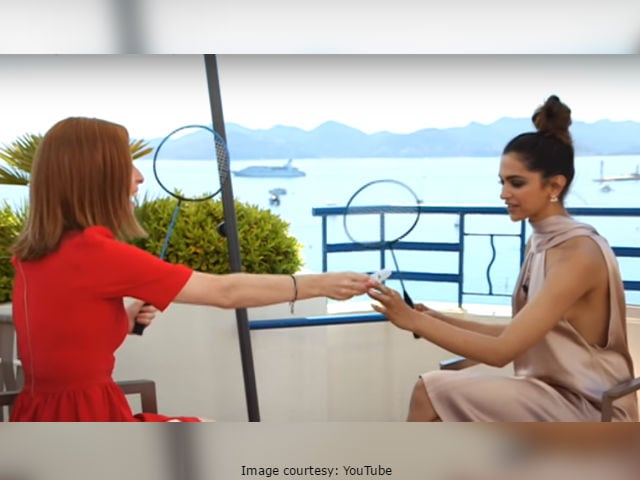 Highlights
Deepika Padukone played badminton during a media interaction
Deepika talked about Bollywood and her Hollywood film xXx 3
Deepika Padukone's next film is Padmavati
New Delhi:
Deepika Padukone
impressed fashion critics
with her many fabulous appearances at 70th Cannes Film Festival. She was at the top of her game right from the moment she left for the French Riviera as make-up giant L'Oreal's brand ambassador. Off the red carpet, Deepika Padukone was equally fun as she played badminton with a reporter (because she's a National level player) during a media interaction. Deepika said things about fashion which will make you believe that's she's one of us. Deepika revealed a secret about herself and Vin Diesel (which is way too cute) and had a cool piece of advice to keep up with life and fulfilling dreams.
Deepika Padukone, 31, walked the red carpet twice - first wearing a Marchesa gown and next
in Brandon Maxwell creation
- and got full marks. So, does Deepika ever get bored of having to look so glamourous all the time? The 31-year-old actress said: "I don't get bored, because I balance it out. In my private life, you'll never see me with make-up on. Even after all these years, I don't know how to do my own make-up." She added: "I think it's fun to dress up and to have designers make some amazing clothes, to have the amazing hair and make-up people do what they do. That's one part of my life. And then there's the girl in me who just wants to be at home. Just be in pyjamas and big dirty t-shirt and not worry about the way I look."
Fashion aside, if Deepika had a choice to bring one of her films to Cannes it would be, "
Piku
." She said, "It's a beautiful story about a father and daughter; it's so relatable but also told in a fun and comical manner."
Meanwhile, after the release of her first Hollywood film
xXx: The Return Of Xander Cage
, Deepika Padukone has been a popular face in the international entertainment circuit. When the reporter told Deepika that from the interviews she gave about her co-star Vin Diesel, it seems she's "a little bit in love with him." Deepika replied: "Excuse me? He's the one who's in love with me. Let's set the record straight. He's adorable. He's just the most amazing person I've ever met. He's generous and kind. All the amazing experiences I had are because of him and his faith in me for what I could do for the movie. He is a friend for life."
Deepika also said of all her films, she's done the most extreme preparation for
xXx 3
. "I had to learn how to shoot guns. Real guns. It sounds and looks really cool, but it's really, really loud and that's probably the most extreme thing I've done for a role," she said.
Deepika @70
"When I'm 70, I hope to have a little home with a view like this (points towards the sea-lined roads of the French Riviera) with lots of children and grandchildren. Just a good life, a peaceful life," she said.
Deepika On Bollywood and The Live Love Laugh Foundation
Of the attitude towards women in Bollywood, Deepika said: "I think it is everywhere in the world. Women are fighting for equal rights. Equality and diversity are two things everyone's talking about. And it's important we talk about these things because it needs to be discussed."
Talking about her foundation, which aims to help those fighting mental illness, Deepika said: "There's a stigma attached to it. If I've been through an experience and by talking about it I can maybe help people then why not. I want to work towards destigmatizing mental illness and liberate people and allow them to feel like they're not different from anyone else. And I want them to know it's curable and even preventable."
Deepika's Advice To Young Women
"I'd say follow your heart because that's what I've done. I've been very lucky to have parents who have encouraged me to do what I wanted to do. I come from a sports family and people would have expected me to do was to follow my father's footsteps. But I chose a completely different path and they encourage me to do that because if you want to be successful you have to enjoy what you do. I think it's important to take risks and fail. But more importantly, follow your heart," she said.
Watch Deepika Padukone's interview here:
Deepika is currently busy with Sanjay Leela Bhansali's
Padmavati
and hasn't signed another Hollywood project yet.
Deepika Padukone attended Cannes Film Festival on May 17 and May 18. Her L'Oreal colleagues Aishwarya Rai Bachchan and Sonam Kapoor will be next.
(As told to Eve Jackson, Culture Editor of France 24 at Cannes Film Festival)