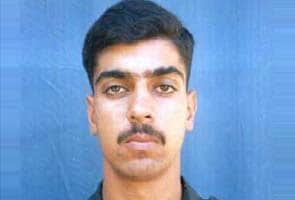 New Delhi:
Captain Saurabh Kalia was taken prisoner during the Kargil War between India and Pakistan. His mutilated body was returned to India on June 9, 1999. His father, Dr NK Kalia, 64, a retired senior scientist from the Council of Scientific and Industrial Research has taken the government to court. He wants his son's case to be raised at the International Court of Justice at The Hague.
In this blog, he shares his memories of the son who made the supreme sacrifice in war - in the best traditions of the Indian Army - when he was 22 years old.
We lost just one Saurabh physically; we got thousands of Saurabhs in return from the world over, ensuring we never feel alone even for a moment. The love, respect and the very deep sense of belonging showered by innumerable persons over the last 13 years is overwhelming.
We have received over 1.55 lakh emails and over 42,000 hand-written letters along with visits and calls from innumerable persons from India and abroad. The way the media, both print and electronic, has stood by us through all these years has been exemplary. Certainly, we would have to take more births to repay all this.
Captain Kalia did not live long enough to receive his first salary. Incidentally, news of his martyrdom and his salary came on the same day. It reflects his selfless service towards the nation.
Sacrificing for the country is not a new phenomenon. Since time immemorial, to safeguard our land and culture, the honour of our mothers, sisters and daughters, sacrifices have been made. If we all hesitate send our sons to the army, who would defend their honour?
But, what happened to these valiant soldiers is totally unacceptable to any parent, army or nation. The issue is not only limited to Saurabh or his men but also includes the dignity of our armed forces and the honour of our great nation. It is a national issue.
Think for a moment about the toughness he had to face, away from his family and dear ones, risking his life. But at what cost? All for a paltry salary.
In the first fortnight of May 1999, Captain Kalia went out for patrol duty three times in the Kaksar area of Kargil. He has been hailed as the first officer to give information of the large-scale incursions by the Pakistani Army in Kargil. He volunteered four times in place of another slightly older officer to go to Bajrang Post, at a height of between 13,000 and 14,000 feet, along with five soldiers to check on infiltration activities in the Kaksar area.
Fired upon there by the Pakistani Army, these brave soldiers kept fighting for some time, and could have possibly been injured. They ran out of ammunition and their signalling equipment went out of order. Eventually, they were captured alive by Pakistani soldiers, before reinforcements could reach.
The Pakistani Army captured Saurabh and his patrol party of five brave soldiers on May 15, 1999. They were held in captivity for over 22 days and subjected to brutal torture - as evident from their bodies handed over by the Pakistani Army on June 9, 1999. These soldiers did not break while being subject to horrific barbarism. This speaks volumes of their patriotism, grit, determination, tenacity, and valour and the whole nation is proud of them.
The Pakistani Army indulged in the most heinous of acts - of burning their bodies with cigarettes, removing their eyes after puncturing them, breaking most of their teeth and bones, besides inflicting all sorts of physical and mental torture on these brave soldiers before shooting them dead.
Pakistan violated all international laws by capturing them alive but their Prisoner Of War status was not conveyed to India. The Pakistani Army subjected them to unprecedented brutal torture that violated the Geneva Convention.
I would like to share some observations and experiences of our attitude towards our jawans. God and soldier are remembered only when we are in trouble. A soldier of any rank is inducted into the armed forces only after an extremely harsh and arduous training. And only after he takes an oath that he would offer his supreme sacrifice for the nation in its hour of need. Do any of us take such an oath while joining any job? No. Not even the President and the Prime Minister of India.
Let every citizen take a pledge to visit soldiers' and martyrs' families around them for one hour every month just to let them feel that they are cared for, loved and looked after in the absence of the soldiers. Remember, they do not need monetary help but a sense of belonging to society. Such a noble gesture would go a long way in honouring our soldiers.