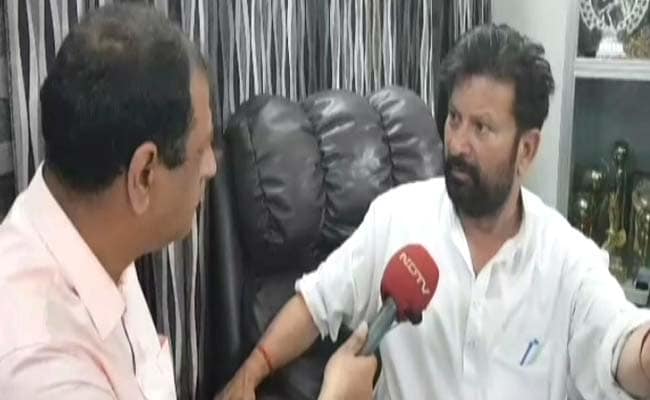 Jammu and Kashmir:
Former Jammu and Kashmir Minister and BJP leader Choudhary Lal Singh, who quit last month amid criticism over his support for the accused who raped and murdered an eight-year-old girl in Kathua, marched barefoot for five hours to demand a Central Bureau of Investigation (CBI) investigation in the case.
The march was organised this morning to pressurise the state government to have the case investigated by the CBI. Despite blistered feet, Mr Singh continued to walk for several kilometres, his supporters said. He has organised over 30 rallies in Kathua, Samba, Jammu, Udhampur, and Reasi districts since his resignation.
"We will not rest till the CBI inquiry is ordered," the former forest minister said a few days ago when he led a candlelight march from his residence in Gandhi Nagar till Satwari chowk.
Mr Singh and another BJP minister Chandra Prakash Ganga had addressed a rally organised by a pro-Hindu group Hindu Ekta Manch in March in support of the accused in the case. After resigning, the duo said that they were asked by the party leadership to visit Kathua to pacify angry locals who were demanding a CBI probe into the horrific crime.
Before the state police's Crime Branch, which probed the case, filed the charge-sheet against the accused, several lawyers of the Jammu Bar Association tried to stop them outside the court. They, too, demanded a CBI probe. "The crime branch team has officers from Kashmir who don't have a good track record. Therefore, we want a CBI inquiry," BS Salathia, president, Jammu Bar Association had said.
Chief Minister Mehbooba Mufti had rejected such demands.
Earlier this month, the Supreme Court, while transferring the case to Pathankot in Punjab, also turned down the accused's request to have the CBI investigate the case.
Ordering that the trial be fast-tracked, the Supreme Court said proceedings will be held every day and there will be no adjournment.
(With inputs from IANS)