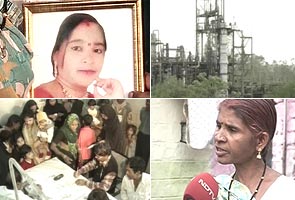 Bhopal:
It has been 26 long years since one of the world's worst industrial disasters struck Bhopal. However, even today, most of the victims await justice even as the main accused of the tragedy, Warren Anderson, walks free.
Renu was one-year-old when the Union Carbide tragedy struck and the poisonous methyl isocyanate (MIC) gas engulfed her colony, stunting her growth. Two years later, her brother Jagdish was also born stunted. This was because their mother Leela had suffered MIC exposure.
Renu died this August and the only compensation she had received was Rs 25,000.
Two months before her death, in June, the Centre had granted an additional Rs 71 crore to the victims of Bhopal Tragedy, raising the family's hopes but in fine print, it was a grant only for victims with permanent damage.
So Leela, who suffers from acute respiratory and vision troubles, is not eligible. Nor is Jagdish, who cannot work and not even Renu, who died suffering at the age of 26.
"They said since they didn't suffer any serious damage, we would not get any more compensation," said Leela.
Activists say, the grant was declared for all but only 39,871 survivors and families of 8,781 people who died in the tragedy got it. This figure is shockingly just 9% of the total number of people affected.
"91% of these people are officially acknowledged as damaged, exposed by the disaster, will now be denied any additional compensation," said Satinath Sarangi, Activist, Bhopal Group for Information & Action.
After the initial euphoria, comes the harsh realisation. The Centre's additional compensation package has only added insult and injustice to the community of people who are already suffering injustice for 26 long years.