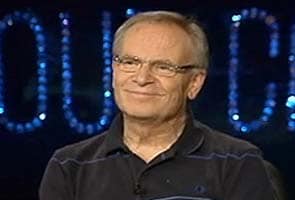 New Delhi:
Jeffrey Archer fans, here's some good news for you! The third book of the master storyteller's "The Clifton Chronicles" will be released in India next week ahead of its global launch and the British author will travel to Mumbai, Bangalore, Chennai and the capital.
"Best Kept Secret" is the highly anticipated third installment of "The Clifton Chronicles" and takes the reader on a breakneck journey from Bristol to the US and on to Buenos Aires in the mid-1950s.
Published in India by Pan Macmillan India, it bears all the hallmarks of a classic Archer thriller, keeping the reader guessing throughout with his fast-paced narrative and nail-biting cliff-hangers.
Says Archer on travelling to India for the launch,"Everyone knows my love of India, and I'm delighted to be back again with the third volume of 'The Clifton Chronicles', 'Best Kept Secret'. Don't keep it secret - let everyone know!"
"Jeffrey continues to enthral audiences all over and we are delighted that he has chosen to launch the book in India first, ahead of its global launch," says Rajdeep Mukherjee, vice president and head of Pan Macmillan India.
The author will travel to Mumbai, Bangalore, Chennai and New Delhi from March 10-15 as part of the special launch.
Last December, Archer was in India for five days during which he addressed universities, schools and readers groups.
In his blog, Archer mentioned that during his stay, he enjoyed "teasing the locals about our (English) cricketers' magnificent victory in winning the Test series".
He met two of his family's close friends Sunita and Naresh Kumar, who live in Kolkata and had invited him to attend a special party for 700 children from the missionary homes.
Spanning the 20th century, "The Clifton Chronicles" is a gripping family saga of the trials and tribulations of the Clifton and Barringtons, two families at opposite ends of the social spectrum.
"Only Time Will Tell" is the first novel in "The Clifton Chronicles". The epic tale of Harry Clifton;s life begins in 1920, with the words "I was told that my father was killed in the war."
A dock worker in Bristol, Harry never knew his father and expects to continue on at the shipyard, until a remarkable gift wins him a scholarship to an exclusive boys' school, and his life changes.
"Sins of the Father" is the second book in the series and begins from the time before Britain declares war on Germany.
In "Best Kept Secret", Harry Clifton is now a best-selling novelist and has built a new life with Emma Barrington and their son Sebastian.
As they begin their married life together, they face danger and disloyalty not only from within the Barrington family but from a shady figure from Harry's past.
The cast of colourful characters includes the scheming Lady Virginia and a ruthless South American criminal, Don Pedro Martinez.
As in the first two novels, the drama is seen through the eyes of each of the main characters, highlighting how differently they perceive the action that unfolds before the readers' eyes.
This instalment of the mesmerizing saga brings us up to the 1960s, with another dramatic and unexpected ending with tragic consequences.
On February 24, Archer sold the first copy of "Best Kept Secret" for charity. He is an amateur auctioneer, conducting around 30 charity auctions a year, and has raised over 40 million pounds for various charities during the past 32 years.
"I conducted an auction for Scope, and sold the first copy (for charity) of Best Kept Secret to Maureen Sutherland Smith for 1,300 pounds - incredibly generous, remembering she could get it for 18.99 pounds on March 14," he wrote on his blog.
With a writing career spanning 36 years, Archer remains one of the most successful storytellers of our age.
He first burst onto the literary scene in 1975 with "Not a Penny More, Not a Penny Less", followed four years later by the phenomenally successful "Kane and Abel", still one of the biggest bestsellers of all time now on its 93rd reprint.
Eighteen novels, six collections of short stories, four books for children, and three volumes of non-fiction later, he continues to captivate readers with intriguing characters, ingenious plots, and his trademark surprise endings.
He has now sold more than 250 million copies worldwide, is published in 97 countries and in more than 37 languages.