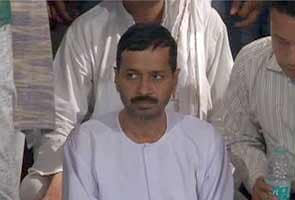 New Delhi:
Activist-turned-politician Arvind Kejriwal is scheduled to break his two-week long fast at 5 pm today.
Mr Kejriwal is protesting against inflated water and electricity bills in Delhi which he alleges is because of a conspiracy between the government and private firms. He says though his fast is ending, the protest will not.
Mr Kejriwal, who is 44, has lost more than six kilograms since his fast began on March 23. He announced yesterday afternoon that nearly 10 lakh people have signed his petition agreeing that the government is fleecing them.
He also said that for the next stage of his "satyagraha" or civil disobedience movement, he would like residents of Delhi to help his team in reconnecting the power supply to homes who are without electricity because of unpaid bills. Power companies have issued an advisory asking people not to re-connect power connections. Apart from being illegal, power companies say, people will be at a risk of electrocution.
While the Congress claims Mr Kejriwal's fast is only a 'political' stunt to garner votes, the BJP has said that the fight against inflated bills should be from within the system and not through "illegal means."
"It's a political fast; what should the government or the congress do about it? He's a person who is a political personality now and political parties' fast is a thing that political parties do to win over votes or win over people's confidence," Congress leader Sandeep Dikshit said.
"I think we will have to fight for issues, for causes not in a non-cooperational kind of mode. We still have to work with the system and cleanse it, reform it and make it better," BJP spokesperson Nirmala Sitharaman said.
Mr Kejriwal said he had hoped that his one-time mentor, activist Anna Hazare, would give him a glass of juice today with which he would end his strike. But Anna is not free, he said.