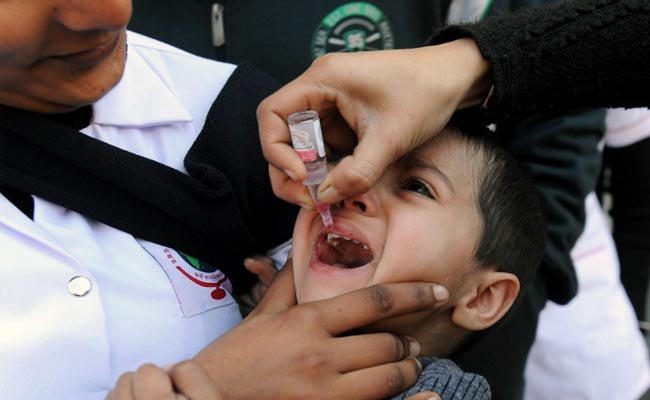 New Delhi:
India's anti-polio programme got a jolt recently after it was found that some vaccines made by a Ghaziabad-based firm were found to contain the P2 virus strain. The company, BioMed, is one of the four domestic suppliers of polio vaccines to the government-run polio immunisation programme.
The OPV (vaccine) containing type-2 polio virus was withdrawn globally in April 2016. Since then the bivalent oral polio vaccines contain only type-1 and 3 viruses. Polio vaccines can either be bivalent (for type 1 and 3) or trivalent (type 1, 2 and 3).
How was the incident discovered?
As part of an intensive surveillance to remain polio free, India collects sewage samples from 45 sites across eight states for testing. Additionally, stool samples are collected from children reporting polio-like symptoms or an onset of paralysis.
Sewage samples from around Allahabad tested positive for the type-2 polio virus in September, sending alarm bells through the public health sector. "There is no clarity on how the Ghaziabad-based firm got the type-2 virus and so the drug regulator will be testing samples from other companies too," a health ministry official said.
How high is the risk to children?
Government officials do not call this a contamination but instead an adulteration as the previously used trivalent vaccine always had the type-2 component. "Our children are protected by injectable polio vaccine too. The type-2 virus is the weakest of the three and this is not a health risk for our children, neither does it derail India's polio programme," said Dr NK Arora, chairman of the National Certification Committee for Polio Eradication.
The World Health Organisation has in a statement said while this is a regulatory breach and something the government must get to the bottom of, the presence of type-2 virus does not pose a health risk to any child who has been administered the vaccine.
"We will need to monitor all the children who were given these contaminated vaccines for at least six months to see if polio manifests in them," a person in the state-run Mission Indradhanush told NDTV, asking not to be named.
How did the vaccine vials slipped through a stringent government programme?
When NDTV spoke with officials in the health ministry and the drug regulator, a major gap came to light. Vaccines are tested by the drug regulator for the immune efficiency of its contents only. In this case, BioMed's poliomyelitis vaccine was tested for the immune efficiency of type-1 and 3 viruses as shown on its label, not for type-2.
"This is why nobody picked up that type-2 virus was present in the vaccine before it was administered. This is an usual practice and must come to an end. Polio vaccines must be checked for the presence of all three virus strains in the future," a person with direct knowledge of the matter in the drug regulatory body said, asking not to be named.