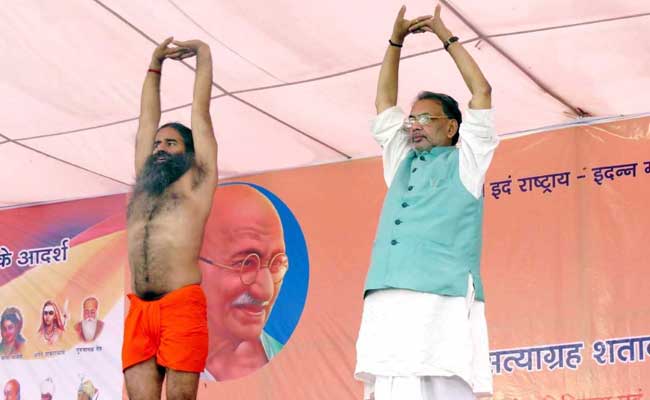 Patna:
As Mandsaur -- the epicenter of yesterday's violent farmers' protests in Madhya Pradesh -- boils, Union Agriculture Minister Radha Mohan Singh was spotted in Bihar's Motihari, attending a yoga camp led by Ramdev. The yoga event in Motihari, Mr Singh's hometown and parliamentary constituency, was part of a three-day camp organised by Ramdev.
In his address to the gathering, the minister said Yoga Guru Ramdev had invited him to Motihari for a three-day visit after a conversation on Mahatma Gandhi's Satyagrah at Champaran. When reporters asked him to comment on the death of five farmers in firing, the Minister replied, "Yoga kijiye (practice yoga)".
Hundreds of farmers held a protest in Mandsaur yesterday, demanding better prices for their crops and loan waivers. Five of them had died in police firing - which State home Minister Bhupendra Singh confirmed long after issuing a strong denial initially.
Today, Congress vice-president Rahul Gandhi, who had gone to meet the families, was arrested by the state police. Mr Gandhi's party has called the farmers' deaths "cold-blooded murders".
The Congress has accused the BJP-led Central government of consistently ignoring the farmers and the common man. Yesterday, party spokesperson Abhishek Singhvi has accused the BJP of "acting like a curse of death for Indian farmers, literally".
Two years ago, when the dal prices were at an all-time high triggering a crisis in most kitchens, the Congress had accused the BJP of not looking after the interests of the common man.
With the crucial assembly elections in Bihar approaching, three key Central ministers from Bihar - Radha Mohan Singh and food minister Ram Vilas Paswan - were campaigning for the party in their constituencies. In the election, the BJP was trounced by the Grand Alliance of Nitish Kumar's JD(U), Lalu Yadav's RJD and the Congress.