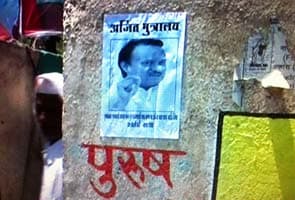 Jalna:
He has called it "the biggest mistake of his political life" but Ajit Pawar, the Deputy Chief Minister of Maharashtra, isn't being forgiven for mocking the water and power problems defeating the state's farmers.
A urinal in Jalna, a part of Marathwada mangled by drought, has been named after the leader, retribution for his asking sarcastically "should we urinate" when discussing the poverty of water.
A poster on the urinal, put up by Arvind Kejriwal's Aam Aadmi Party, says: "AJIT URINAL, Aam Aadmi Party Jalna protests Ajit Pawar's statement of offering urine to the parched, drought stricken people."
At a rally on the weekend, Mr Pawar had ridiculed a man who has spent nearly two months on a hunger strike, demanding that the state release water for his farm and others.
"There is this person from Solapur, sitting on hunger strike for 55 days demanding water be released from the dam. But where are we going to get water from? Should we urinate? And when we don't have water to drink, it's hard to pass urine as well," he had said.