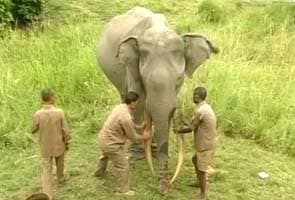 Kaziranga National Park:
He is known as "Kaziranga's Pride." But at the world-famous national park in Assam, Joyraj is quietly slipping away.
Vets who are treating him say the 72-year-old has just weeks to live. They conduct daily medical check-up and prescribe medicines to help him overcome weakness.
Joyraj, who weighed eight tonnes at his peak, and is now down to seven, retired about five years ago after a career studded with adventure and heroism.
He used to carry officers on his back to inaccessible areas in the sanctuary that did not have roads and even through water, and helped them catch poachers and rescue other animals trapped in floods. He also helped tourists on their safaris around the 430 square km park, known best for its one-horned rhino.
"He never got angry or fought with any other elephant. There was no other elephant like Joyraj. Visitors to Kaziranga always asked for Joyraj," said Ranjit Baruah, a forest guard at the Kaziranga National Park.
There are 61 elephants who are housed at Kaziranga and are assigned different jobs. Joyraj is the universal favourite among keepers. He was brought here from a nearby village when he was six years old. Before roads were developed in this hilly, forested part of Assam, food and other essential supplies were carried by him to remote camps where forest guards were staying.
Others find it easy to offer eulogies for Joyraj. But his mahout is a man of few words. When asked to describe the elephant in his life, Mangal Karmakar pauses, then speaks slowly. "After Joyraj goes there will be no one else like him."