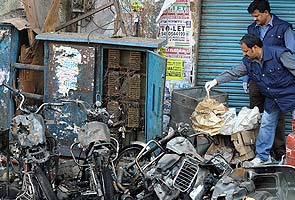 Hyderabad:
The bombs used in the powerful blasts that ripped through Hyderabad's Dilsukhnagar last evening were improvised explosives devices or IEDs built for maximum damage, forensic experts have said.
No RDX or Research Department Explosive was used. Instead, ammonium nitrate was mixed in a small quantity of an explosive chemical and packed with iron nails and nuts and bolts and 3 to 9 volt batteries. Investigators said only small quantities of ingredients are typically used in such IEDs to avoid detection. The first bomb had 300 gm of ammonium nitrate, the second, about 700-800 gms.
This was then tied at several places with copper wire to ensure big damage and then packed in an aluminium container and placed on bicycles parked in the strategic places about 150 metres apart.
Timers were used to trigger the blasts within five minutes of each other. Such was the impact that splinters hit people 30 feet away. The forensic experts said no inflammable material was used in the bombs. The flames seen in the aftermath of the blasts were from petrol in vehicles parked in the area.
Investigators say the bombs used in the twin blasts in the city in 2007 had large amounts of ammonium nitrate, but also contained neogel, an inflammable explosive, and were packed in wooden not aluminium boxes.
The police said that a second bomb that exploded yesterday was placed near a foot overbridge close to the spot where an unexploded bomb had been found and defused in 2007.
Ammonium nitrate was also used in the bombs used in the serial blasts in Pune in August last year. There are other striking similarities between the Pune blasts and the ones in Hyderabad yesterday. In Pune too the four bombs that exploded were placed on bicycles in a busy marketplace, about 150 metres apart.
In October last year, the Delhi Police said it had solved the Pune blasts case with the arrest of five men, two of whom had allegedly done a reconnaissance of Dilsukhnagar and other crowded Hyderabad markets as possible terror targets in July 2012.
The trainer among these men, who the Delhi Police alleged were Indian Mujahideen terrorists, was arrested in Hyderabad.