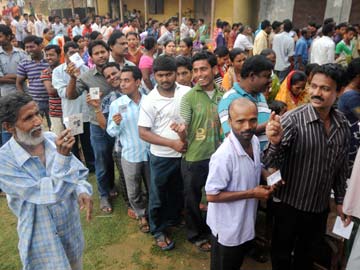 New Delhi:
The 111 parliamentary seats for which elections have been held so far have recorded a turnout of 68.29 per cent, which is 7.90 per cent more than the votes polled by these constituencies in the general elections held five years ago. In absolute terms, there was a staggering 28.81 per cent increase in the number of voters over the 2009 figures, the Election Commission (EC) pointed out today. (
Battle 2014: Track live updates
)
The EC has come out with the final voting figures for the Lok Sabha constituencies where polling has been completed. And the figures are quite astounding, confirming the trend that has been noticed in the past few state-level elections. Rising voter awareness, a more conscious youth, aggressive campaigning by the political parties and various rights groups have contributed to the surge in voting across the country. (
India Votes 2014: Full Coverage
)
Voting in another 10 states is only partially complete, as the EC has ordered a staggered polling. According to EC Director General Akshay Rout, the 10 Western Uttar Pradesh seats that went to polls on April 10 saw a voter turnout of 66 per cent. Odisha, where elections have taken place in 10 constituencies, saw a polling of 75 per cent. It was 55 per cent in the six Bihar constituencies and the lone Bastar seat in Chhattisgarh where voting took place in the third phase. In the 10 seats of Maharashtra, the voting percentage was 63. The nine constituencies of Madhya Pradesh saw a voter turnout of 63.33, while the eight Assam seats recorded a poll percentage of 75.83. The four Jharkhand seats where voting took place on April 10 notched up a voting percentage of 58. A voter turnout of 69.18 per cent was recorded in Jammu, while Outer Manipur saw an impressive 82.14 per cent of the electorate turning out to vote.
The polling process has been wound up in nine states (Kerala, Haryana, Goa, Arunachal Pradesh, Mizoram, Meghalaya, Tripura, Sikkim and Nagaland) and four union territories, or UTs (Delhi, Chandigarh, Andaman and Nicobar Islands and Lakshadweep). The voting percentage has, according to Mr Rout, registered an increase in all these territories as compared to 2009, with the exception of Nagaland and Sikkim. The lower turnout in Sikkim could be attributed to rainfall on the polling day.
In fact, Goa, Tripura and Chandigarh recorded highest polling figures ever. And there were more women voters than men in Goa, Sikkim, Meghalaya, Arunachal Pradesh, Chandigarh and Lakshadweep.
The voter turnout in the 13 states and UTs was 76.90 per cent in Arunachal Pradesh, Goa (76.83 per cent), Haryana (71.86 per cent), Kerala (74.02 per cent), Meghalaya (69.03 per cent), Nagaland (88.57 per cent), Delhi (65.09 per cent), Sikkim (80.96 per cent), Tripura (84.90 per cent), Andaman and Nicobar Islands (70.77 per cent), Chandigarh (73.57 per cent), Lakshadweep (86.79 per cent) and Mizoram (61.70 per cent).