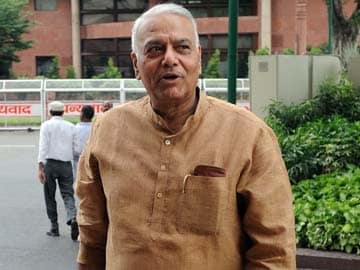 New Delhi:
Former Finance Minister in the NDA government and senior BJP leader Yashwant Sinha today took on current Finance Minister P Chidambaram over the state of the economy and pointed out that the growth of the last seven quarters has been extremely low.
"This is the seventh consecutive quarter which has been below 5 per cent (growth)," Mr Sinha said.
Mr Sinha, 76, was scathing in his criticism of Mr Chidambaram, saying the Finance Minister had made a habit of ruining a perfectly healthy economy that he had inherited.
"It seems like it has become his habit that he will get a strong economy, and he will ruin it before he leaves... Shri Chidambaram will be remembered in history as a spoiler, as someone who specialises in sub-five per cent growth rate, for his hubris, arrogance," Mr Sinha said.
The BJP leader also said Mr Chidambaram was leaving behind a huge burden for the next government by giving away subsidies.
"The PM had said in September 2012 that money does not grow on trees. If fiscal deficit is unchecked he said, it would be a huge burden on our economy. He said the last time we faced this problem was 1991. But when Rahul Gandhi wanted 12 gas cylinders subsidy, he promptly allowed it. Which led to a burden of 5000 crores on the government," Mr Sinha alleged.
Mr Sinha's attack on the Finance Minister comes a day after Mr Chidambaram, speaking to NDTV, slammed theories that attributed the
rupee being at an eight-month-high
and the Sensex at an all-time high to the Modi euphoria. Mr Chidambaram had said the rally was a result of the measures taken by him and the government to strengthen the economy as well as the Centre's stability. (
Read: Market rally due to Centre's stability, not due to some 'fond hope', Chidambaram tells NDTV
)
Mr Chidambaram had also refuted industry's perception that subsidy has become the hallmark of the UPA and that BJP's prime ministerial candidate
Narendra Modi
is seen to be growth-oriented.
"Even Modi won't make such an extravagant claim... It's obvious that big business and I am using the word big with capital B. Big business is supporting the BJP but that's because Mr Modi is known to favour crony capitalism. The hallmark of UPA government is growth. We delivered 8.5 per cent growth in the first five years and we have delivered 7.2 per cent growth in the next four years. The NDA record does not even match 7.2 per cent," he had told NDTV.