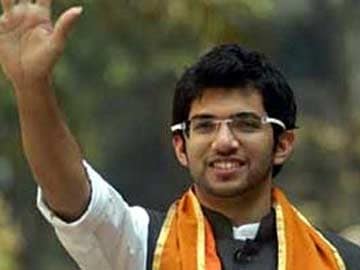 Mumbai:
Four years after his political debut, Aditya Thackeray, son of Shiv Sena chief Uddhav Thackeray is coming of age. Back in 2010, the Thackeray scion's coming out party was thrown by grandfather, the late Bal Thackeray at a Dussehra rally, who introduced him as the chief of the Yuva Sena.
From political bargaining with the BJP over the past few days, to strategising on seat-sharing arrangement, in four years Aditya has cemented his place as the future leader of the Shiv Sena.
"There can be differences in any alliance. There were differences earlier also. We don't have egos, we want to take the alliance ahead," said Aditya after hectic parleys with ally BJP on seat-sharing.
Aditya, 24, was dispatched by father and Shiv Sena chief Uddhav Thackeray to negotiate with BJP as an alliance older than him is falling apart. But the BJP is upset as they consider him a political novice.
"We have shown our displeasure on this matter because Aditya Thackeray is junior leader. They should have sent senior leader for discussions," said Eknath Khadse, Leader of Opposition in the Maharashtra Legislative Assembly.
But those who have worked with Aditya say in the last four years of his political career, he has nurtured his skills and evolved as party's bridge to the future as it goes through a transition phase.
Till now, Aditya has focused mostly on urbane and youth oriented issues like a campaign for 24-hour eateries and highlighting malpractices at the Mumbai University.
He also courted controversy in 2010 by getting Rohinton Mistry's novel
Such A Long Journey
removed from the Mumbai University syllabus as he felt the book insulted the "Marathi Manoos" and Shiv Sena. But his congenial and accessible nature makes him click with the seniors in the party.
"He has everything that a youngster needs to be a successful politician and youth leader. He replies to calls and messages, comments on his Facebook page and expresses himself on Twitter," said Pratap Sarnaik, Shiv Sena MLA from Thane.
However, Aditya's critics say he still has a long way to go before he becomes a seasoned politician.
"I found him very intelligent, quite well read, but that does not say anything about his political acumen. I did not find any specific political acumen that he has, whether it is about discussing the alliance or understanding politics as whole. I don't think he has paid attention to what politics is and what makes things click," said senior journalist Kumar Ketkar.
The 24-year-old faces his biggest challenge yet as he pushes Mission 150 for his party. His leadership skills are under intense scrutiny as the Sena faces its first big battle home without the party patriarch, Balasaheb Thackeray.