New Delhi:
The Uttar Pradesh Madarsa Shiksha Parishad has directed all Madarsas in the state to unfurl national flag on the occasion of 70th Independence Day. As apparent through the image of the order shared by News Agency ANI, the Parishad has also outlined the events which should be organized on August 15 after the unfurling of the national flag. The Parishad has also directed that national flag unfurling should be followed by recitation of national anthem.
Minority welfare minister Laxmi Narayan Chaudhary told PTI that Uttar Pradesh government has also directed all madrassas (Islamic schools) to hold celebrations on Independence Day. The Minister said the event will inspire students and they will learn more about the contribution of the freedom fighters.
"Unlike the previous governments, which indulged in politics of appeasement, we are a government with nationalist bent of mind," he told PTI today.
As per the notice the unfurling of national flag and recitation should be organized at 8:00 am followed by programs at 8:30 am. Some of the activities which have been suggested in the said notice are commemoration of martyrs of Indian freedom struggle, singing of patriotic songs by students, cultural activities based on national integrity and sports programs. The programme should be concluded by sweets distribution among the students.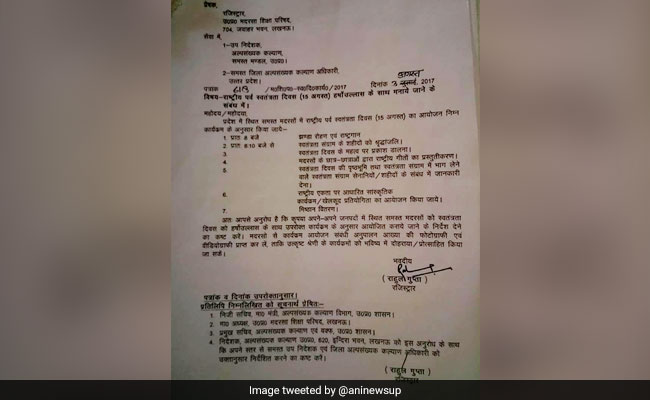 The notice also says that schools should click photographs and make videos of the event so as to encourage and repeat well-performed programs and activities in future events as well.
Similar notices were circulated by CBSE to all its school for organization of cultural activities on Independence Day in all its affiliated schools. The CBSE circular had also listed similar cultural activities which could be organized by all affiliated schools on August 15.
'Madarsas should not exclude themselves from participating in the national festivals'
"Every citizen born in India celebrates different festivals ranging from Holi, Diwali, Eid and Lohri. But when it comes to national festivals, they are celebrated by the entire nation. And, the madarsas should not exclude themselves from participating in the national festivals," Mr Chaudhary told PTI.
At present, around 8,000 madrasas in UP are recognised by the government body UP Madrassa Shiksha Parishad. Among these, 560 are fully aided by the state.
"Directives were issued as the government recognised that madrassas get funds from the state government and are supposed to celebrate the national festivals including Independence Day," Mr Chaudhary said when he was asked as to what prompted the government to issue the above directives to the madarsas.
'Through different cultural programmes', the minister also said that, 'the students will be made aware of the rich history of the freedom struggle and the heroic deeds of our revolutionaries and martyrs. They will definitely draw inspiration from their heroic tales.'
"Those who are trying to impute motives and suspecting the intention of the government, I doubt their nationalist credentials," he said taking a swipe at political rivals.
(With Inputs from ANI and PTI)
Click here for more
Education News