Mumbai:
Have you ever wondered about a house which runs on zero electricity and also generates electricity for future use? Well, this idea isn't far-fetched at all. A team from IIT Bombay had successfully built such a fully-functional, well-furnished house with three rooms, a kitchen sufficient lighting and air conditioning. The house runs on solar energy using rooftop solar panels. It does not use any electrical energy from the grid but is capable of generating and feeding excess energy to the grid on a bright sunny day.
The name of this fascinating team of passionate young engineering and architecture students is "Team SHUNYA" where SHUNYA stands for 'Sustainable Habitat for an Urbanizing Nation by its Young Aspirants', said a statement from Indian Institute of Technology.
The team took part in Solar Decathlon Europe, 2014 and got "Honourable mention in Sustainability".
The team secured highest points in innovation in engineering and made innovations in the fields of solar-powered appliances, photovoltaic systems and house simulations.
Another remarkable highlight is that the team has patented a solar air heater in which maximum temperature of 220 degree Celcius can be reached.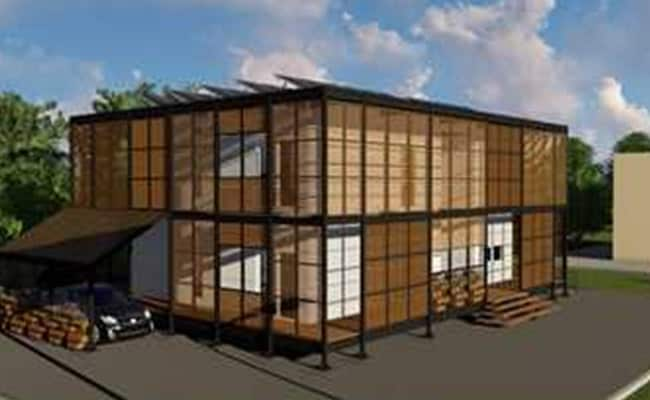 Team SHUNYA of IIT Bombay is now set for the next challenge - to participate in Solar Decathlon 2018 to be held in Dezhou, China.
It is the only team from India to have selected in Solar Decathlon, 2018 which will be held in Dezhou, China.
Solar Decathlon is an international competition in which teams from various countries compete to build a fully-functional solar-powered house by applying cutting-edge technologies and innovations in a month-long competition and make a live model of the house on the competition site within just 12 days. The U.S. Department of Energy Solar Decathlon also designated as 'The Olympics of Solar Powered Houses' challenges collegiate teams to design, build and operate solar-powered houses that are cost-effective, energy-efficient and attractive.
Read also:
Airbus, Google, Goldman Sachs, Intel, Microsoft Participate, Rs. 11.41 Lakhs Average Salary Offered In IIT Bombay Placements
Indian Researchers Recover Aromas Preserved In 17 Million Years Old Amber
IIT Bombay's B-School Begins Class Of 2019 With 46 Per Cent Female Candidates
Click here for more
Education News
Get Breaking news, live coverage, and Latest News from India and around the world on NDTV.com. Catch all the Live TV action on NDTV 24x7 and NDTV India. Like us on Facebook or follow us on Twitter and Instagram for latest news and live news updates.