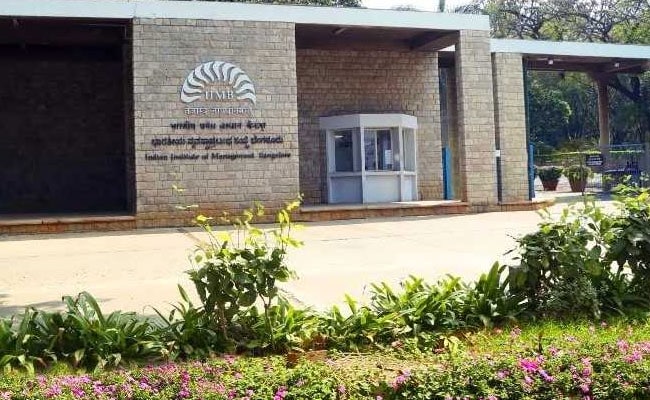 Bengaluru:
Indian Institute of Management (IIM) Bangalore or IIMB, along with the Consulate General of the State of Israel in Bengaluru, will launch the Israel Centre @ IIMB, on November 5 (Sunday), 2017, at 4.30 pm. The launch, by the Chief Guest Daniel Carmon, Ambassador of Israel to India, will mark 25 years of India Israel partnership and will boost the development of business and academic ties between the two countries.
"The goal of Israel Centre @IIMB is to forge academic relationships between IIMB and institutions in Israel, so that there is mutual learning for impact on Indo-Israeli business relationships in the domains of innovation, technology, start-ups and scaling up of organisations," said Prof. G. Raghuram, Director, IIM Bangalore.
Expressing his thoughts about the upcoming Israel centre at IIMB, Israel's ambassador to India H.E. Daniel Carmon said: "I am filled with pride as bridges of academic collaboration are appearing across India and Israel. The vision of the agreements between our academic institutions materializing into real centres of learning and rapprochement is a big part of the fruition of our growing partnership."
"Real learning takes place everywhere. It is therefore important to venture out to centres of learning, wherever they may be, to behold the future of our relations taking root and branching out in new directions," he added.
"The Israel center at IIMB will help fulfil the talent and potential on both the sides to the fullest and the Consulate will work together with IIMB to achieve this goal," said Dana Kursh, Consul General of Israel to South India.
India and Israel have had a long and fruitful history of bilateral development cooperation especially since 1992 when formal diplomatic relations were established. During Israeli President Reuven Rivlin's visit to India last year in November 2016, more than 20 agreements were signed between the heads of Israeli and Indian universities aimed at increasing academic cooperation, student and faculty exchanges, and research partnerships.
With the new emphasis of the Indian government on promotion of entrepreneurial activity, the business and academic contacts between the countries assumed heightened significance. The change in Indian attitude and official stance coincided with Israel's search for revised geopolitical configuration.
Focused activities of the Israel Centre @ IIMB will be aimed at stimulating, strengthening and sustaining Indo-Israeli academic-business interactions.
"The centre aims to become a leading research and networking place that aims to provide students, researchers and business managers and firms with deep understanding of Israeli and Indian business, supporting and promoting diversified body of research and teaching related to Indo-Israeli business," said Prof. Abhoy K. Ojha, Chairperson of the Centre and senior faculty from the Organizational Behaviour and Human Resource Management (OBHRM) area at IIMB.
Read also:
IIM Bangalore Summer Placements: More Than 130 Companies Recruit All 401 Students
IIMB is ideally positioned to start an Israel Centre as it has ongoing academic programmes, research collaborations and students exchange programmes with leading Israeli academic institutions and especially, in the last four years, with Tel Aviv University (TAU).
Click here for more
Education News