New Delhi:
Students Federation of India (SFI) and Ambedkar Students Association (ASA), an Ambedkarite organisation, have formed 'Alliance for Social Justice' (ASJ) to take on the Rashtriya Swayamsevak Sangh (RSS)'s Akhil Bharatiya Vidyarthi Parishad (ABVP) in the upcoming University of Hyderabad Students Union (SU) elections. The SU elections are scheduled to be held on September 21.
Anti-ABVP students' organisations and alliances have trounced the RSS-backed right-wing student wing in several students union elections held recently, including,
Jawaharlal Nehru University
,
Delhi University
, Rajasthan University and Gauhati University.
The ASJ alliance in University of Hyderabad (Which is popularly known as Hyderabad Central University - HCU) also includes organisations like Dalit Students Union (DSU), Tribal Students Forum (TSF), Telangana Vidyarthi Vedika (TVV) - parties who were also part of last year's Left led alliance-, Muslim Students Federation (MSF) and Students Islamic Organisation (SIO) from ASA led front.
"Three and half years into governance, sidelining the development agenda, Modi Government is busy in upholding communal, casteist and divisive agenda. In this process, University of Hyderabad witnessed an unprecedented attack on Five Dalit Research Scholars including Rohith Vemula belonging to Ambedkar Students Association by BJP, MHRD and UoH VC Podile Apparao for upholding the Politics of Self-Respect, which went to the extent of institutional murder of Rohith Vemula," said a statement from ASA.
"In addition", the statement added that, the "administration during 2016-17 academic year had enforced various anti-student measures such as illegal and arbitrary reduction of intake resulting in violation of Reservation Policy and delegitimizing the Students Union by different means".
In that juncture, ASA said, 'as a continuation to the historic struggle', it had proposed the idea for a united front consisting of all democratic forces to fight against ABVP and the 'casteist UoH administration' that has been standing 'as a tool of the right wing fascists under university VC Podile Appa Rao'.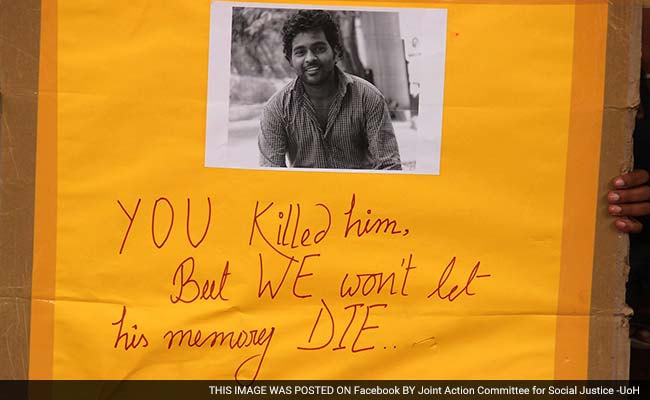 Last year, HCU students union elections were held eight months after suicide of Rohith Vemula
"On behalf of the ASA led front, it has been decided that ASA will contest for the post of President and MSF will contest for the post of Joint Secretary," said the statement.
Last year, in the students union elections which was held eight months after suicide of Rohith Vemula, ASA had contested the elections in alliance with Indian National Congress's National Students Union of India (NSUI) against SFI led left alliance and ABVP.
The SFI-led United Front for Social Justice (UFSJ) had won all posts in the elections held for the students' union of the University of Hyderabad for 2016-17, beating ABVP.
Sreerag Poickadan, a PhD scholar from Regional studies will be contesting as the ASJ president candidate against K. Palsaniya of ABVP-OBCA and Anju Rao of NSUI.
The polling will be held on September 21 and the results are expected to be declared next day.
Click here for more
Education News