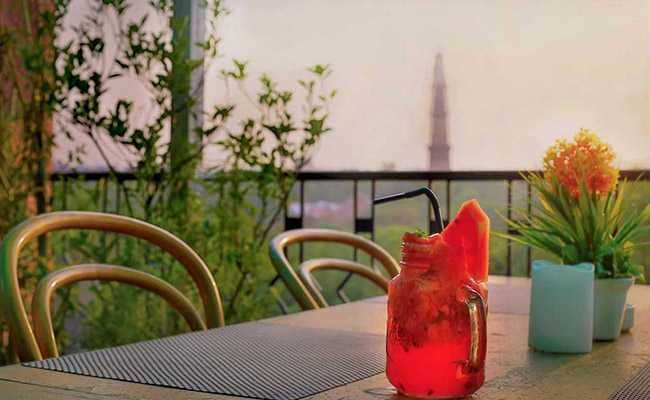 New Delhi:
Delhi's heritage Mehrauli zone, home to many a hip bar and designer store, is where Sambhav Sharma decided to locate Q Cafe, Delhi's first LGBTQ restaurant that provides food, drinks - and sustenance - for the city's rainbow queer community.
With the Qutub Minar providing the perfect backdrop, Q Cafe hopes to provide a safe haven for those who fall outside the man-woman binary and struggle to find spaces accepting of their 'other' status.
It started in October when Delhi-based queer rights activist Sharma tied up with Chez Jerome, an expert in French and Indian cuisines. The French chef later stepped down and handed the reins of control to Mr Sharma and his Italian partner Roberto.
For Sambhav Sharma running the cafe comes with a responsibility.
"I have to make sure that this cafe is not specifically for gay men because they already have many spaces in the city where they can hang out. They are dominating queer spaces all around the city," he said.
With a small dance floor under an open sky and seating for around 30 people, the cafe usually opens in the evening.
The menu, inspired by French, Greek and Italian cuisines, could compete with any eatery in the city. On offer are a variety of salads, omelettes, pastas as well as thin crust pizzas with traditional toppings and dips.
Specialties of the house include Greek chicken potato salad, a delicate mix of potatoes, onions, tomatoes and chicken salami, Parisian salad dressed with fresh lettuce and fresh parmesan and freshly baked breads.
But it's not all about food.
With events like book reading sessions and trans nights, Sharma wants to sensitise his customers about queer rights beyond Section 377 - the Indian Penal Code section that criminalises sexual acts "against the order of nature".
"Obviously, the cafe is not any NGO but it's also not a place where people should only come to enjoy. I want to utilise this space to revolutionise the struggle we are going through in India. The transgenders, lesbians and hijra folks of our community need more such spaces," said Sharma.
Despite falling under the broader queer umbrella, gay men stand out from others in the trans community. As a result, transgenders don't feel safe even in those places where they should be welcome, he said.
Delhi is amongst the few cities in the country where late night parties in five-star hotels welcome people from the queer community. But few trans people make it inside the elite doors.
Simran Shaikh, a transgender and senior programme officer at Sexuality Gender and Rights at Alliance India, echoes Sharma and welcomes safer places for the community but associates the profound segregation more with "class" than "gender".
"The segregation among the LGBTQ is only of class and not of gender. The discrimination happens when you are not associated with a particular class of a party.
"I don't foresee any such changes with these cafes and bars. There will still be class differences in particular parties where there might not be trans identified individuals," she said.
According to LGBTQ activist Harish Iyer, homophobia within homosexuals is "rampant".
"It is sad but true. Just because one belongs to an oppressed community (queer) doesn't make them sensitive to everyone else. Gay men rule the roost in many spaces."
"I think some gay men have an issue with effeminacy. It is just another form of misogyny that runs deep in our society. Some do so, so that they don't get noticed as gay, in the company of those who look gay," the Mumbai-based activist said.
Praful Baweja, who is also based in Mumbai and is an activist, hopes that the workshops he has been organising will change things for the better for the community.
"Usually when one is looking for employees in any company, the person wants them to be trustworthy. The question of orientation is usually hidden. With workshops we are trying to tell people from the community to not be bothered by their orientation.
"Usually MNCs have a diversity and Inclusion unit where gender issues are addressed, but in smaller companies they may not have such a facility," he said.
"Through workshops we want to educate even trans people about company structures and how they can contribute in starting small scale businesses. We are also trying to facilitate information of people within the community so that they can connect to each other," he added.
More spaces like the Q Cafe, they hope, will help in strengthening this connect.