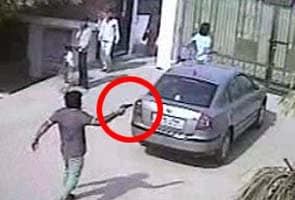 New Delhi:
The Delhi police says it has identified the three men involved in the murder of Bahujan Samaj Party leader Deepak Bhardwaj at his farmhouse on Tuesday and is looking for them in neighbouring Haryana.
The police on Wednesday found the Skoda car in which Mr Bhardwaj's killers came to his farmhouse and shot him. A few suspects were also detained outside Delhi. However the murder weapon is yet to be traced.
Investigators also questioned Mr Bhardwaj's family, from whom he was estranged of late, and guards at his sprawling farmhouse on the Delhi-Gurgaon border. Mr Bhardwaj had invested in a township in Haridwar but apparently had a dispute with the builders. The police are looking up that link as well.
Police say the killers abandoned the Skoda car after the murder and sped away in a Santro, which is being hunted down.
Three men drove into Mr Bhardwaj's farmhouse on Tuesday morning and shot him twice from close range after an argument. CCTV footage from the farmhouse, released by the police, shows the suspected attackers fleeing in a grey Skoda car.
Mr Bhardwaj was a real estate tycoon and a super-rich politician. While contesting the 2009 Lok Sabha elections from West Delhi, which he lost, he had declared assets of over Rs 600 crore, making him the richest candidate in the polls.
Mr Bhardwaj's post-mortem was conducted on Wednesday. Two bullets were found in his body.
Police said the shooters had possibly done a recce of the farmhouse as they seemed to know where to find Mr Bhardwaj in the premises. An unlicensed gun is suspected to have been used to kill him.