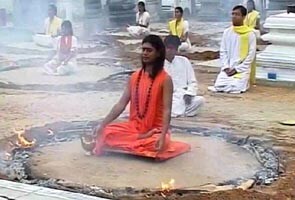 Bangalore:
Freed from the confines of prison, where he spent 53 days on charges of rape, self-styled godman Nityananda says the purported video footage of him with an actress has not affected him spiritually, but socially - "from being one of the most watched gurus on YouTube to one of the most watched scandals."
"Spiritually nothing changes, because the truth is always the same. But socially I can say many things have changed. I used to be the one of the most watched gurus on YouTube, now I am one of the most watched scandals on YouTube!" the 32-year-old swami said.
The godman defended himself from 'media reported charges' of sexually exploiting gullible women, pointing out that over 23 lakh women have so far attended his programmes. "In my ashram, I have female ashramites aged between eight and 80.
Though CID issued repeated appeals since March this year, not a single woman has lodged any complaint so far," said swami.
"Over 300 women come to the ashram each day for darshan and blessing", said the swami, whose ashram faces allegations of asking women devotees to sign an agreement stating that the course enrolled for could involve exposure to nudity.
He appeared in no hurry to clear his name. "After three months, I think devotees and public are beginning to understand the truth. All their queries are being automatically answered. I think I can say I don't need to clear my image because in course of time, the truth will emerge on its own strength," he added.
Nityananda felt spirituality has not entered deep enough into money, sex or politics.
"We always have an idea that spirituality should be kept separate from regular activities. No! Only if spirituality penetrates every dimension of our life can even material life become sacred. And only then can planet Earth move to the next level of superconsciousness", he said.
The godman hit the headlines last March after a purported video footage showing him in a compromising position with a Tamil actress was aired on local TV channels.
Told that swamis being embroiled in controversies seemed the order of the day and asked when religion, money, sex and politics has got mixed, he said "The problem is exactly the opposite! Religion or rather, spirituality - has not entered deep enough into money, sex or politics".
Asked whether the incident had made him mentally stronger Nityananda Swami, who reportedly spent hours meditating in prison, said, "I can say all devotees who survived so much sensationalism have emerged stronger. It has been a tremendous learning experience for all."
Nityananda Swami does not appear to hold a grudge against those who distanced themselves from him following legal wrangles. "Any individual handles a life situation according to his own intelligence and understanding", he said.
"So some people got carried away by rumours. Those who experienced the truth around me stayed strong throughout. Some were shaken, but are bouncing back as the rumours are being cleared", he said.
The video had allegedly been shot by his driver Lenin, who is being questioned by police.
"Let us move towards peace and positivity. Let us work towards a world where there is space for everyone to coexist peacefully. Let us live and let live", he said.
Reiterating his philosophy that inner peace, freedom and contentment were not results of any favourable conditions, but of perception, he said he perceived little difference in the days spent in prison and ashram.
"When you clutch onto one place, one lifestyle, one set of people as your own, all other places become alien for you. When no place is your own, all places are yours!", he said.
"Physically there may be some hardship in prison life, but mentally I am always free, always blissful. Your outer freedom can be taken away, but your inner freedom is always your own choice", said the swami.
Asked whether his prison stay would impact his missionary goals, Nityananda who has several followers all over the globe said "The mission is poised for a giant leap. Between the mission as it was and what is going to happen now, I can say these few months are nothing more than a small intermission.
My mission never changes to raise spiritual consciousness of our planet and create a harmonious world through yoga and meditation.
"Whether happens through words or silence, let the Divine decide", he said when asked of plans to continue his missionary goals in the face of a court directive restraining him from preaching.
"My concern is for my ashramites, devotees and seekers who chose this path and want to receive spiritual guidance. I feel their suffering. But I shall abide by the High Court direction", said the swami who has now sought relaxation of bail conditions.
He reiterated his trust in truth and prevalence of justice. "Satyameva jayate - Truth alone triumphs. Clouds can only hide the sun, they cannot destroy it! Yes I believe in the judicial system. Ultimately, justice will prevail", he said.
He however, evaded a question on whether he was still in touch with actress Ranjitha, purportedly shown in the clipping and his alleged infatuation with her as a young lad.