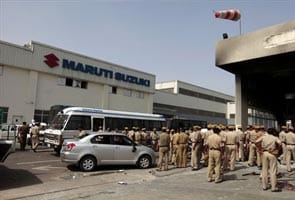 Gurgaon:
Maruti Suzuki India on Thursday said it has formed a 25-member team, drawn from its various departments, to take care of employees who were injured in violence at Manesar plant that killed one senior executive.
"All injured employees need special care and attention to recover from physical injury and emotional trauma. This special team, led by an executive director, is trying to gauge specific needs of the employees related to hospitalisation, medication, leaves etc.," the company said in a statement.
The team will have members from different departments, including HR, Safety and Welfare, Finance and Engineering, it said, adding they were visiting the injured colleagues at their homes.
General Manager (HR) at the Manesar plant, Awanish Kumar Dev, was charred to death in the violence last week and 100 others were injured, many of whom had fractures in legs and arms.
"In addition, this team, is also counselling members to overcome shock and trauma related to the unfortunate incidents of last week. In this case particular, the team is also spending time with families to understand their need," the company added.
Asking for the culprits to be brought to book, it said: "The company, its employees and the bereaved family of Awanish Kumar Dev eagerly await action against those guilty of violence."
Maruti Suzuki further said it is cooperating with the government, administration and the police in arresting the culprits.
The company had declared a lockout at the Manesar plant on July 21 saying the safety and welfare of its employees were paramount. Work at the Gurgaon plant, however, continues to be normal.