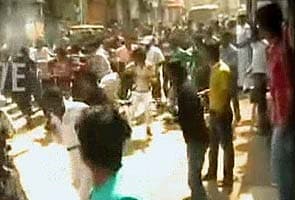 Kolkata:
Mamata Banerjee's decision to remove Kolkata's police commissioner RK Pachanda over the police's handling of political clashes at a city college in which a cop was killed on Tuesday, has drawn strong criticism from West Bengal governor MK Narayanan.
Hours after the top cop was transferred today, Mr Narayanan criticised the government's decision saying, "If the Kolkata police commissioner was removed for what happened in the last few days, quite clearly there is something wrong and we need to look into it."
Ms Banerjee said she was not happy to remove Mr Pachanda, but felt the police had not made arrests in the case on time. "Those who have been named in the FIR should have been arrested whichever part of the world they are in. Why were they not arrested? Because of that I had to take action," the West Bengal Chief Minister said.
The Chief Minister's detractors have alleged that Mr Pachnanda was shifted out because he wanted to arrest some members of her party in connection with the policeman's death.
Sub Inspector Tapas Chaudhari was shot dead when he tried to intervene in a clash between Congress and Trinamool Congress men outside the Harimohan Ghose College in the Garden Reach area.
12 people have been arrested so far, but the police have been unable to arrest a Trinamool Congress councillor Mohammed Iqbal, who was present at the spot and has been named in the First Information Report (FIR). Mr Iqbal is believed to be close to the state's Urban Development Minister Firhad Hakim.
Ms Banerjee visited the sub inspector's home today and described his death as "a personal loss to me." The Chief Minister promised that Mr Chaudhuri's wife, Minati, would continue to draw his salary and get all financial benefits, including increments and promotions due to the officer till his scheduled retirement in 2017. Mrs Chaudhari, she said, would not have to attend work for this. She also promised the policeman's daughter a job in the police department and said the state government would pay for his young son's education.
The Governor too visited Mr Chaudhuri's family today.
In an uncharacteristically strong statement last month, Mr Narayanan had said that recent incidents of political violence in the state showed the prevalence of "a kind of goondaism and not political culture". He had suggested that the administration ensure that law and order is maintained.