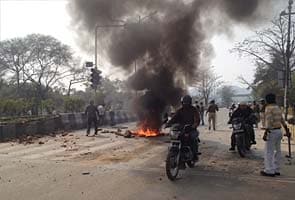 Noida:
Security cameras for a company near Delhi that deals with surveillance equipment show a group of 10 people a entering the building, smashing glass, breaking and picking up computers. One person in the mob films the violence on his cell phone. (
Watch: vandalism caught live on CCTV
)
The violence erupted in Noida today, just 11 kms east of Delhi, during a bandh or strike called by major trade unions to protest against high prices. By the end of the day, 14 people had been arrested.
The damage was extensive. Several factories and small scale units had been attacked. Seven cars and a fire engine were set on fire; another 12 cars had been vandalised. (
See pics
)
"In my own factory, mobs climbed the gates and walls, broke and carried away computers, and damaged the external facade of the building," factory owner Pankaj Sadh told NDTV.
It's not clear yet if the mob, armed with bricks and stones, included workers on strike, or comprised largely of people who leveraged the bandh to loot offices. (
Response to strike overwhelming, say trade unions
)
In the afternoon, the police baton-charged a mob of nearly hundred people near the Hoisery Complex in Noida phase II which also houses several small scale units.
The police admit it was easily outnumbered because most of its officers had been assigned to protect government buildings during the strike.
For factory owners, it's not just the losses of today that are worrying. Without adequate police cover, they say, their offices could be vulnerable to more attacks, especially if it turns out that today's rampage was not incited by union workers, but by local miscreants.