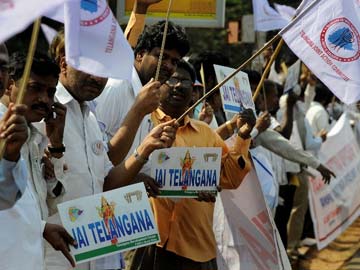 New Delhi:
The Centre has decided to redraw the boundaries of the proposed Telangana state to include two more districts, in a political decision reportedly cleared by Prime Minister Manmohan Singh and Congress president Sonia Gandhi. The cabinet is likely to clear the proposal on Wednesday before sending it to the President.
Here are the latest updates on this story
The proposed new entity called 'Rayalatelangana' will include two out of the four districts in Rayalaseema - Anantpur and Kurnool - besides the 10 districts in the Telangana region.

The two states carved out of Andhra Pradesh will then each have 21 Lok Sabha and 147 assembly constituencies.

Sources say the Congress is hoping that electoral gains from the equal division of seats will compensate for any anger that the party might face in Seemandhra, where political leaders including Chief Minister Kiran Reddy have vehemently opposed bifurcation and thousands of government employees struck work for over two months, disrupting power supply and other essential services.

Ahead of the national election due by May, the Congress sees in Rayalatelangana a way of containing the influence of rivals like the Telangana Rashtra Samiti (TRS), the YSR Congress party of Jaganmohan Reddy and the TDP of Chandrababu Naidu.

Congress strategists feel Jagan Reddy, who has a strong base in Rayalaseema, will be limited to the now smaller Seemandhra patch.

Mr Reddy's party slammed the new plan as a conspiracy. "The Congress and TDP put together are unable to face Jagan Reddy politically. This conspiracy will not stand as people could see through the dubious designs of divide-and-rule and we condemn it," said YSR Congress leader Sobha Nagi Reddy today.

The TRS, which has been at the forefront of the movement for a separate Telangana, could also find itself on shaky grounds in the two Rayalaseema districts where it has very little support, the Congress calculates.

The Majlis-e-Ittehadul Muslimeen (MIM) has also favoured Rayalatelangana as a means of stumping the BJP, as the two Rayalaseema districts have a significant minority population. The BJP has opposed Rayalatelangana.

Critically for the UPA, the opposition to the Telangana draft Bill will be considerably weakened in the Andhra Pradesh assembly with the Rayalatelangana proposal, as 28 MLAs from Kurnool and Anantpur are expected to support the resolution.

The new formation will have Hyderabad as the common capital for 10 years with the Governor in charge of law and order.