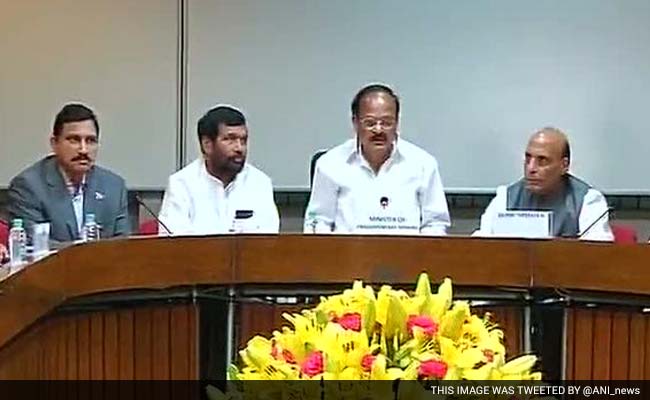 New Delhi: As a turbulent and largely unproductive monsoon session ended this afternoon without legislation including the Goods and Services Tax (GST) proposal being cleared, both the government and the opposition announced protests at Parliament.
Here are 10 developments in the story:
Lawmakers of the ruling BJP and its allies are on what they call a "Save Democracy" march against opposition protests that have led to a wasted session.
A cabinet panel met this morning but did not announce any decision on calling a special session of Parliament to push for the GST proposal - billed as the government's biggest tax reform - if it is not passed today in the Rajya Sabha.
The GST Bill creates a national sales tax to replace a matrix of levies in the 29 states. After it is sanctioned by Parliament, half of India's states need to endorse the reform.
Unrelenting opposition protests have blocked legislative business for much of this 18-day session. Each minute of Parliament costs around Rs 20,000; Rs 35 crore of the taxpayer's money is estimated to have been lost.
On Wednesday in the Lok Sabha, Sushma Swaraj responded to the Congress' allegations that her move to help tainted cricket boss Lalit Modi get urgent travel documents in Britain last year was a "crime."
Sushma Swaraj invoked the Bofors scandal that erupted when a Congress government led by Sonia Gandhi's husband Rajiv Gandhi was in power in the 1980s. Mr Gandhi battled allegations of kickbacks from the Swedish gun maker.
The Foreign Minister also raised allegations that Rajiv Gandhi had helped 1984 Bhopal gas leak accused Warren Anderson, the chief of Union Carbide, leave the country without facing charges, as part of a quid pro quo.
"I did nothing clandestine," the minister declared. "Not a single penny was paid to my daughter for this case," she said, referring to Lalit Modi's successful legal battle to have his Indian passport reinstated last year.
Rahul Gandhi later rebutted Sushma Swaraj's allegations and said: "I ask Sushma Swaraj how much money you got for rescuing Lalit Modi. You must be the only person in the world to help a person on humanitarian grounds in secret."
Wrapping up the discussion, Finance Minister Arun Jaitley said there was no question of Sushma Swaraj resigning. The Congress walked out in protest, saying they would not accept anything but the Prime Minister's response in the house.