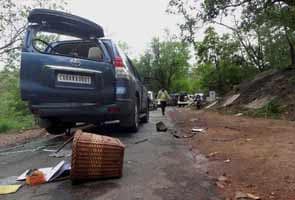 Jagdalpur, Chhattisgarh: A week after the deadly Maoist ambush of a convoy of cars carrying top leaders of the Congress in Chhattisgarh, an initial forensic report is out. It pieces together the two hours of horror on the evening of Saturday last on the narrow highway 221 in the state.

Here is what we now know:
The report concludes that about 27-30 kg of explosive - ammonium nitrate - was used in the attack that killed two senior Congress leaders - Mahendra Karma and Nand Kumar Patel - and 22 others. Another senior party leader, VC Shukla, was shot thrice in the abdomen. He is in critical condition in a Gurgaon hospital.
A command wire, the report says, was used to trigger a blast that created a five-metre-deep crater at the attack site in Darbha Ghati valley in Bastar district and blew up vehicles.
Investigations have reportedly also revealed that a group of 40 to 50 Maoists had been camping in the area near the blast site for five days before the attack. Sources say they recced the site and also visited the local market several times.

Questions are now being raised on why the intelligence and local police failed to notice their movement.
Investigators believe the attack was carried out by Maoists belonging to Andhra Pradesh and Odisha, with a small contingent of Maoists from Chhattisgarh in the outer ring. This, they say, explains why the attackers could not identify Chhattisgarh leaders Mahendra Karma and Nand Kumar Patel.
The Maoists, in a letter sent three days after the attack, confirmed that these Congress leaders were their main targets. Yet when the rebels descended upon the convoy, eyewitnesses said, they kept calling out for Mr Karma. The tribal leader gave himself up after the few cops accompanying the contingent ran out of ammunition.
Mr Karma, the eyewitness said, told the rebels, "Stop firing. This is Mahendra Karma." The Naxals then shouted that they had found Mahendra Karma, separated him from the group, tied his hands and then shot at him at point blank range.
After the attack, investigators say, the Maoists divided themselves into two groups and moved towards Odisha. One of the groups was reportedly spotted in Gupteshwar in Koraput.
Odisha Police's Special Operations Group has launched a combing operation to nab them. But they haven't achieved much success as yet as the terrain where they are believed to be hiding is very hostile and inaccessible.
The attack is now being investigated by the elite National Investigation Agency or NIA. This is the first Maoist assault that the agency is probing.