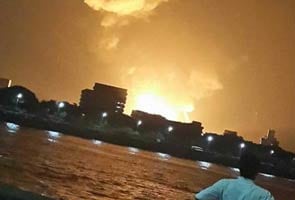 Mumbai:
The INS Sindhurakshak has completely sunk now. There is no information yet on the 18 sailors believed to be trapped inside. Naval divers have entered the submarine.
Here are the big developments in the story:
Indian Navy divers have entered the submarine, which has now completely sunk. Navy Chief Admiral DK Joshi has said there were three officers and 15 sailors on the vessel. He said a primary explosion ignited the ordnance on board the submarine which resulted in a second and larger explosion.


Defence Minister AK Antony and Maharashtra Chief Minister Prithviraj Chavan visited the harbor in Mumbai and assured all possible government assistance. Despite confirming the deaths of navy personnel in the morning, Mr Antony gave no such information during the press conference.

The cause of the explosion, which took place at the naval dockyard in Mumbai around midnight, is not yet known. The submarine was fully-loaded and sources say torpedos and missiles were detonated in the fire. (In INS Sindhurakshak fire, missiles and torpedos detonated: sources)

The multiple blasts were so loud that that they could be heard and seen across parts of South Mumbai. (Watch video of explosion)

Nearly a dozen fire engines rushed to the dockyard to douse the fire, which took two hours. Afterward, the sub was nearly submerged at its berth in the naval dockyard. (See pictures)

The Navy has commissioned an inquiry to determine the cause of the explosion.

The INS Sindhurakshak, which is powered by diesel, is 16 years old. It received a mid-life makeover in Russian less than a year ago at a cost of nearly 80 million dollars (480 crore rupees), and is now submerged. (INS Sindhurakshak: how this loss impacts the Indian Navy)

The accident comes just days after New Delhi trumpeted the launch of its first domestically -produced aircraft carrier, the INS Arihant, and the start of sea trials for its first Indian-made nuclear submarine.

The explosion on Wednesday has damaged another navy vessel, the INS Sindhuratna, berthed at the dockyard which is a colonial-era facility with civilian and military sections that employs more than 10,000 people.

Defence analysts say the major concern is of India's submarine capability depreciating fast. Of 14 diesel-powered submarines, 12 are operational. India has been expanding its armed forces rapidly to upgrade its mostly Soviet-era weaponry and react to perceived threats from regional rival China.
Post a comment