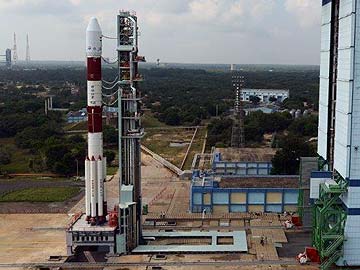 New Delhi:
India is aiming to join the world's deep-space pioneers with a journey to Mars that starts today and costs 73 million dollars or Rs 450 crores.
Here is your 10-point cheat-sheet to this story:
Mangalyaan, which means "Mars craft" in Hindi is scheduled to lift off at 2:38 pm from Sriharikota, 80 kilometres from Chennai. (Full coverage)


India will attempt to become only the fourth country or group of countries to reach the Red Planet, after the Soviet Union, United States and Europe.

This is India's first Mars mission, and no country has been fully successful on its first try. More than half the world's attempts to reach Mars - 23 out of 40 missions - have failed, including missions by Japan in 1999 and China in 2011.

An evolved version of India's domestically developed Polar Satellite Launch Vehicle, with extended rockets, will take Mangalyaan into an elliptical arc around the Earth. The satellite's thrusters will then begin a series of six small fuel burns, moving it into higher orbit before it slingshots toward the Red Planet.

Mangalyaan has a formidable itinerary: a 300-day, 780 million-kilometre (485 million-mile) journey to orbit Mars and survey its geology and atmosphere.

At its closest point it will be 365 kilometres (227 miles) from the planet's surface, and at its furthest - 80,000 kilometres (49,700 miles).

Five solar-powered instruments aboard Mangalyaan will gather data to help determine how Martian weather systems work and what happened to the water that is believed to have once existed on Mars in large quantities.

Mangalyaan will also search Mars for methane, a key chemical in life processes on Earth that could also come from geological processes.

None of the instruments will send back enough data to answer these questions definitively, but experts say the data are key to better understanding how planets develop geologically, what conditions might make life possible and where else in the universe it might exist.

In 2008-09, the Indian Space and Research Organisation successfully launched a lunar orbiter, Chandrayaan-1, which discovered evidence of water on the moon. Mangalyaan was developed from technology tested during the Chandrayaan mission.
Post a comment