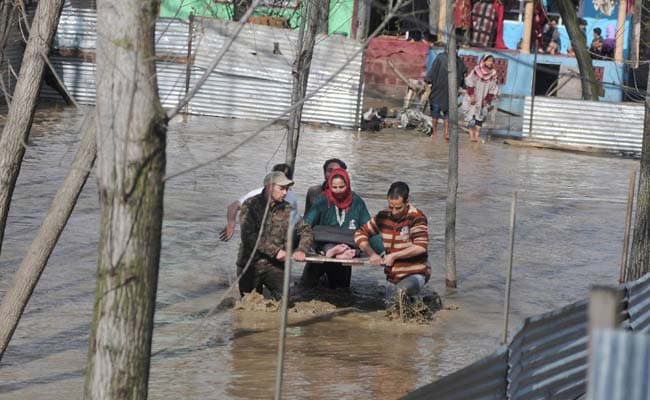 Srinagar:
Sixteen people have reportedly been killed in mudslides and hundreds of people have left their homes in Kashmir after heavy rain over the weekend caused flooding in the Valley. There has been no rain since yesterday, but the weather department has predicted heavy showers tomorrow.
Here are the latest developments in the story:
Of the 16 people feared dead in Budgam, the bodies of 15 have been recovered from a house that collapsed in landslides triggered by rain.

The water levels in the river Jhelum have receded. Late on Sunday night, the river crossed the danger mark, causing panic in a region devastated by floods in September that left some 250 people dead and destroyed thousands of homes.

On Monday morning, the state government declared floods and more than 300 families were moved to safety.

Officials have set up over 20 relief camps and say people have taken warnings seriously, fearing a repeat of the previous floods.

All schools were closed on Monday and exams were postponed.

Prime Minister Narendra Modi has sent Union minister Mukhtar Abbas Naqvi to monitor relief operations.

"I hope and pray that we don't have to face the situation we faced in September. But there is no loss of communication or any major loss to roads," said former chief minister Omar Abdullah, whose defeat in the state polls last year was partly blamed on the poor handling of the floods.

The armed forces, along with four helicopters, have been kept ready for deployment at short notice. Teams of the National Disaster Response Force are in the flood-hit areas of Srinagar.

The central government has granted Rs 200 crore as immediate relief, and the state government has sanctioned Rs 25 crore for Kashmir and Rs 10 crore for the Jammu region, which also has been affected.

This year, in large parts of India, March has been the wettest month in more than a century, wrecking millions of hectares of winter crops.