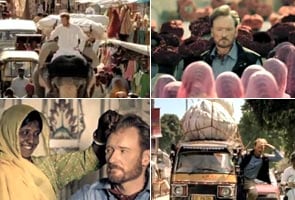 Conan O' Brien has had rather mixed reviews for his latest turn as late-night TV show host, but he is likely to gather some fans in India very soon - even though his show doesn't air here.
A new American Express commercial, riding the buzz around Conan the comic's new show that began airing in the US this week, sends Conan to Rajasthan and captures local colour and spirit without falling into the typical Western trap of caricatures and stereotypes.
And all credit to O' Brien for the ease with each he does this India act.
The Amex ad tells a story, playing on O'Brien's eye for detail. So there is Conan looking for a Benaras silk. When he does not get it, he buys thread, weaves and dyes it to get exactly what he wants. For a certain purpose that is revealed in the end and has everything to do with his new show. Clever storytelling. Watch it. It's been watched almost 1.3 million times already in the six-odd days since American Express posted it on YouTube.
My favourite moment in this ad? Everything. O'Brien speaks in delightful Hindi (with English subtitles), he haggles with aplomb and wades into a pond and gossips with women, referring to them as "girlfriend" - definitely a high point.
The entire autorikshaw sequence, ending with the autowallah's wry remark spoken from under the vehicle with his legs sticking out is giggle-worthy and so India.
He's good, isn't he? But then at a rumoured $1 million fee, that wouldn't have been very difficult. And Rajasthan looks spectacular. The ad was shot over three days there about a month ago.
America's media watchers and critics are split on how good is O Brien's new show, which has been one of American television's most-awaited comebacks since he lost the Tonight Show to Jay Leno in February. Some say funny as usual, others that his funny just does not work, still others who question the very future of the late-night talk show.
Early days yet, but if O'Brien is worried about the future and if he continues to get his Hindi right, and wear a kurta-pyjama that well, he always has Indian TV to fall back on. Coffee with Conan, anyone?
We are crawling the Web for more great videos, tweets pictures, blogs and people that just must be showcased. If you spot some that make you stop and stare,
send them in here
. We'll be happy to credit it to your spidery efforts on the WWW.