Given my web search history, Google Maps asks if I want to visit Jawaharlal Nehru University, New Delhi from which I am 11,747 km away. It is not a pleasant feeling to be so far away from events that are tearing apart and going against the very ethos of the space that has shaped the way I think, forming the base of everything that I am. It is easy for me to drown myself in nostalgia and go on about the
dhabas
, the roads, the hills but I won't because what plagues JNU, and the country at large, today is something that is more concrete than just nostalgia for a glorious past.
When news of the JNU attacks started coming through social media, I didn't make much of it because for us who have spent years in JNU, scuffles are really not big things. It was only last week when I realised that the atmosphere that allowed us to dissent and opine so freely, was something of an exception and a threat for anyone who fears critique. And only people who are unsure of what they do, fear critique.
Student protests are not new, least of all in JNU. What is new is the rampant hate within the public debate on all media. For signing a couple of petitions, I have been threatened on email with rape and lynching, the methods of which were described in elaborate details. "Sickular", "libtard," and "intellectual" are now abuses, dirty words. The confidence with which people abuse and incite violence is something that even I, sitting in New York, have had to face and endure. There is a granted assurance to these people that makes them feel proud of making brazen displays of their absolutely casteist, communal, and chauvinist mindsets. An assurance that legitimises hate mongering can only come from people who monger hate themselves.
I did not know how to deal with the fact that people I went to university with, bummed around the campus cracking jokes, drinking tea, and raising slogans with, were "traitors" and "terrorists" overnight. My people had suddenly become names on the nation's hit-list; a nation that is also mine. The fuse was blown off the circuits of my love and hate, as the State tinkered around and tried micro-managing my relationship with my country, my friends, and my family.
Confused, enraged, scared, and shameful, I turned to the community of people JNU has brought into my life - people who cherish and respect the spirit of debates. All of us were aghast, and at a complete loss, but thankful for the invisible bond holding us together. We held a solidarity meeting and a teach-in on February, 21, 2016, at Columbia University, supporting the demands and the struggles of our friends back in JNU.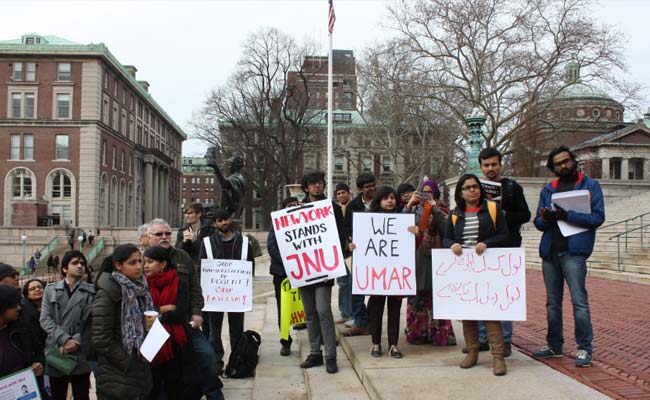 The numbers attending the event were both unanticipated and reassuring. We spoke, recited poetry, sang, and walked through the campus demanding our fragrant, sweet, and treasured freedom back from every force that grudged it. A statement that made the important distinction between Hindutva and the Hindu, from a coalition of Progressive Hindus was read out. 120 of us sickular libtards, heard Partha Chatterjee, Anupama Rao, Rohit De and Thenmozhi Soundararajan deliver lectures on Nationalism, Dissent, and Sedition. We talked of Tagore, of Rohith Vemula, of our friends in JNU and the glorious company they enjoy as free thinking individuals arrested on the grounds of sedition.
The city that saw sub-zero temperatures when JNU was going up in flames, suddenly felt warm again. The solidarity and statements of support we have received from comrades and colleagues from universities around the world have given us the courage to hold ourselves together and sing fearlessly of our dark times. We watched over each other as each one of us tried to develop mature vocabularies to negotiate our crises - a maturity that is absent in thinking that hoisting flags injects love for one's country, or in wanting to "fumigate" our university space to get rid of "anti-nationals".
It was surreal; to be standing on the steps of the Low Library on a February morning, seeing people holding banners saying "
Bol Ke Lab Aazad Hain Tere
" and "
El pueblo unido, jamas sera vencido!
"
There is no name for that sudden flutter of heart I felt when shouting out in unison, "
Kadam kadam pe ladhey hain tumse, kadam kadam pe ladhenge tumse
". Those 11,747 kilometres didn't seem far anymore.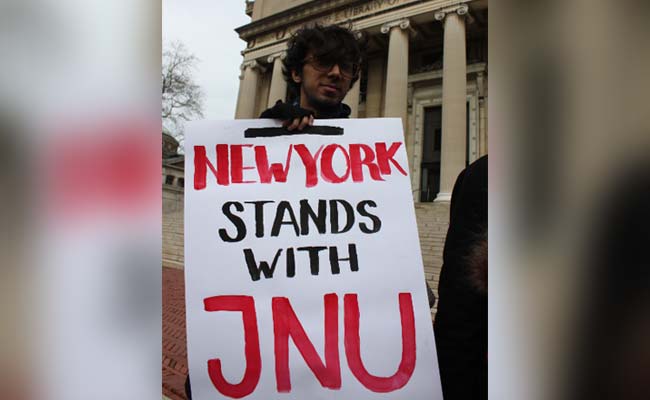 To be with people from universities like Yale, Brown, and Princeton, all at an equal loss at making sense of this insanity, was oddly calming. We discussed how what is happening in JNU isn't coming out of a political vacuum. As a community of students and academics it was important to understand the connected chain of repression that connects JNU, FTII, HCU, Turkey, Iran and just about anywhere where the State cracks down upon student liberties and free speech. The struggle to study under grudgingly allocated minimal public money is something American students have been fighting for years now, and their anxieties resonated with ours. We were all dissenting, all refusing to be bullied and refusing to base our opinions upon doctored videos. We were all there for the love of our nation, for the love of our ideas.
We are a nation of people hoping together, JNU, holding on through all of this for only after the cruelest of winters do the bougainvilleas bloom the brightest.
Pyaarsalaam!(Bedatri studied Literature in English at Lady Shri Ram College for Women, and Jawaharlal Nehru University. She is presently a graduate student of Cinema at Tisch School of the Arts, New York University.)
Disclaimer: The opinions expressed within this article are the personal opinions of the author. The facts and opinions appearing in the article do not reflect the views of NDTV and NDTV does not assume any responsibility or liability for the same.