When Valson Thampu was the principal of Delhi's premier St. Stephen's College (2008-16), he was no stranger to controversy. From increasing the quota for Christian students to being a stickler for attendance even if it meant holding back a cricketing hero, Valson Thampu commissioned many controversies. Here's a look at five things we learnt from his new book,
On A Stormy Course
:
1. How Admissions Are Open To Manipulation
When you have a limited number of seats and many students claiming it, there are bound to be unfair decisions and lobbying for seats. However, Valson Thampu gives a principal's perspective on how much lobbying there is. From a bishop's daughter wanting admission that Thampu wasn't willing to give, to dealing with the admissions process for his niece. In fact, one sees the bishop and other church figures in completely new light, full of petty politics and intrigue.
2. Dealing With Chief Minister Sheila Dikshit
Rivalry between Delhi University colleges is legendary - like between Miranda House's Sheila Dikshit and St. Stephen's Valson Thampu. Thampu writes of a time he got a call from the Chief Minister's office with a huge complaint against him. Apparently the charge was that he was making anti-Hindu comments in his morning assembly and the Chief Minister wanted him to give an explanation and reply to the complaint. In the book, Thampu says he said no to the Chief Minister because the complaint was anonymous.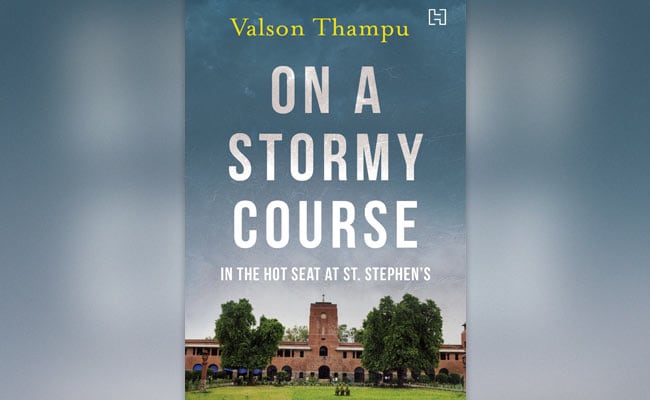 3. Of Elites And Elitist Concerns
Here's an alumnus that St. Stephen's may not be boasting too much about - Pakistan's dictator General Zia Ul Haq. Also, St. Stephen's was always the destination of the ruling classes and VIPs have always been problematic. The book talks about how Rev WS Rajpal deals with a student who would come in a Mercedes and security guards in the 70s. At the time, walky-talkies were banned instead of the cellphones that bound on campuses now. Rev Rajpal told the industrialist to take his son to another college because he didn't want someone who felt unsafe on campus!
4. Chalk vs Markers
In 2009, some teachers demanded that the traditional chalk and blackboards be replaced with whiteboards and marker pens to avoid respiratory problems. Principal Thampu claims when he started this, a different campaign took over about how marker pens were carcinogenic! Apparently, the book reveals, the big proponent of this theory changed their mind soon after, also asking for a whiteboard and marker pen.
5. The Unmukt Episode
Perhaps the most unpopular phase of Valson Thampu was when cricketing hero Unmukt Chand was stopped from giving his exams because he didn't have the requisite attendance (a problem which many students identify with). Principal Thampu says it wasn't his problem, it was the Vice Chancellor's, but what he also reveals is how Kapil Sibal made a call asking him to reverse his decision.
Separately, here's what the Principal says of Minister Smriti Irani - "I used to be amused by the hoo-hah made about Smriti's lack of educational embellishments. When I compare her conduct with that of the highly-educated teachers, vis-a-vis my experience in this issue, I find her far better educated than her detractors. Contrarily, if the effect of education is that it trains its beneficiaries to be expert
shikaris
of their fellow human beings and insensate factories of falsehood, it would serve the country better to appoint the least qualified on the scale of such education as its minister for human resource development."
(Sunetra Choudhury is Political Editor, NDTV. She's author of 'Behind Bars: Prison Tales of India's Most Famous'.)
Disclaimer: The opinions expressed within this article are the personal opinions of the author. The facts and opinions appearing in the article do not reflect the views of NDTV and NDTV does not assume any responsibility or liability for the same.
Get Breaking news, live coverage, and Latest News from India and around the world on NDTV.com. Catch all the Live TV action on NDTV 24x7 and NDTV India. Like us on Facebook or follow us on Twitter and Instagram for latest news and live news updates.