13 days ago, on a Sunday morning, my father went from being a constant presence at our Lucknow home to one of so many road accident victims across the country who lost their lives.

My father was Prem Narain Pandey; he was 65 and an electrical engineer by profession. He served the government of Mizoram for about four decades and retired in 2011, choosing to settle in Lucknow.

My mother, a Mathematics professor in Aizawl, retired in 2016 and joined my father in Lucknow less than a year ago.

On that Sunday, my father was out for his morning walk and was going to my uncle (mama's) place for a cup of tea. His walks were part of a daily routine. He was fit and did not have a single ailment, except an occasional high blood pressure complaint.

As he was walking down the road that leads to my uncle's home, an 18-year-old boy driving a Honda Activa hit him from behind. The impact was such that my father was reportedly flung in the air. He landed on a metal railing, severed his right hand, and then fell face first into an open drain. When his body was taken out of that drain, he had a severe head injury, his legs were fractured and his clothes were soaked in filth and blood from that drain.

He could not make it alive to a nearby hospital.

The police have filed an FIR under the "causing death by negligence" section of the Indian Penal Code; it carries a maximum sentence of two years and the driver has not been arrested as per "Supreme Court guidelines in cases that carry a sentence of upto two years", according to the police.

For 13 days now, my father has been up on a wall at home, and his memories have haunted me no end.

One lasting memory is of my father dropping me off to a boarding school in Delhi in 1994. Not only did I absolutely hate him for it, I thought he was "putting me away" because he wanted the Aizawl home to himself and my mother. My brother had been sent to a different boarding school three years earlier. Anyway, the school I went to had a newspaper-in-education programme - each one of us got individual newspapers. Those morning newspapers got me hooked and contributed in a major way to my being a journalist today. In Mizoram in those days, most kids wanted to be engineers or doctors, using the state quota for such courses in institutes across India. My father, who I was so angry with initially about my school, saved me from near certain failures in those fields!

My father was an introvert who did not speak much or interact in the limited social circles in Aizawl and elsewhere in Mizoram. But he was famous to almost legendary proportions for two things - an absolute sense of honesty and an almost forbidding sense of discipline.

I remember my summer vacations from school: we would arrive home to an even tougher timetable that included reading newspapers, encyclopedias, course books and set times for going out to play and more. Needless to say, I absolutely resented it and for the most part, my "study" time consisted of hiding comic books under text books and pretending to be engrossed. All this was with the active collusion of my mother and I always thought that my father was oblivious to our plots. Years later, I was told my father knew everything, but decided "Even if he imbibes 2 percent of all of this routine - mission accomplished."

I also vividly recall how, at times in Aizawl, there used to be regular chanda collection drives, especially by the non-Mizo workforce across the state. My father never handed out any payments. When people would arrive at the house asking for money, he used to tell them, "You know my record, I do not have any money to give you." "But XYZ gave us 5,000 rupees," they would say. "Well, you go and ask XYZ to give another 5,000 rupees from my side because I do not have that kind of money." I heard this conversation play out multiple times on my Aizawl home's front porch. Not once was money given. Not once did anyone turn offensive. "Pandey is a clean man," people used to say about my father.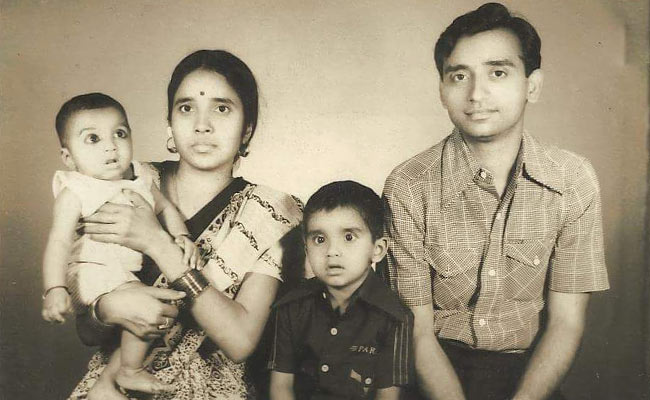 Over the years, my father grew very disillusioned with government systems and from being sidelined from important decision-making processes within his department as he would not take a cut. He still reserved a lot of admiration for Mizoram though. "In Bihar or UP, perhaps I would have been bumped off," he used to say, "here, at least, they look at me with respect. Look at their society and the focus on public service."
Every week through boarding school and college, I used to get letters from my father. I remember one particular letter after a rather disastrous academic performance in school. There were multiple choice questions about why I fared so badly; I had to answer them and post back the letter within a week. A lot of my friends also read the letter and it became a bit of a lingering joke among friends. Two days ago, a friend from school messaged me about papa's death. He mentioned my father's letters and said he always wondered why his parents did not write letters to him in school. He also told me my father's letters were a matter of much jealousy at school - many other parents were told off for not writing letters!
Through my years at Delhi University and then post-grad journalism college in Pune, I was given a monthly stipend by my father and asked to send a statement of accounts at the end of each month. If I needed a raise, I had to give clearly stated reasons. I was never refused an increase. When I was leaving for my journalism course, my father told me in jest,
"ab toh mere paas paan khaane ka bhi paisa nahin hai!"
After I started working as a journalist 11 years ago, my interactions with my father became less frequent. I was travelling constantly, and after 2009, I changed multiple cities - Delhi to Patna, Kolkata, and, as of a few months ago, Lucknow. My parents would come and live with me. My father was extremely fond of Patna. He used to say it gave him a small-town feel. He used to go out for walks for many hours and return with new friendships, and lots of praise for the people of Patna and Biharis in general. I don't know if he took to Lucknow likewise, but he used to speak of the city as a big one like Delhi.
In the last few years, my father and I stood on opposing sides of personal opinions on politics. This led to arguments more than once. It of course did not stop my father from looking out for me. If I was running late at work, I would get a call asking when I would return home. Sometimes, I would get irritated and say,
"Aa jaunga. Aap so jaiyey. Mummy darwaza khol degi."
When I returned home, he would be waiting for me.
When I travelled outstation for shoots, he would call, asking when my story would air. And if I had eaten. Most of my responses were one-liners. He used to watch all my stories without fail. When I returned from longish outstation shoots - and there were many - he would take all my dirty clothes, get them washed and ironed, and give them back to me before my next trip, even if the gap between the two trips was just a night.
I regularly made mental notes to make a greater effort to communicate with him, spend more time with him, listen to his political point of view without getting irritated. I have lost that chance.
The last thing my father asked of me was a nice cap from either Goa or Mumbai. My father was very fond of caps and he had quite a collection. My mother told me he was very possessive of the things I got for him, kept them very carefully in his cupboard.
I had planned on buying the cap on Sunday in Mumbai - the day he died. I flew back to his funeral instead.
(Alok Pandey is Associate Editor at NDTV)
Disclaimer: The opinions expressed within this article are the personal opinions of the author. The facts and opinions appearing in the article do not reflect the views of NDTV and NDTV does not assume any responsibility or liability for the same.