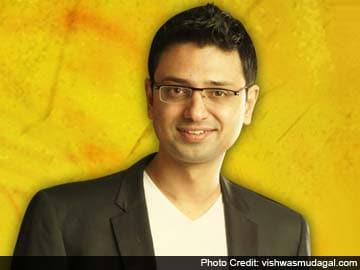 New Delhi:
With his business running into rough weather leaving him almost broke, entrepreneur Vishwas Mudagal was in need of no less than a miracle to start life afresh when a strange idea struck him, that of writing a book on the situation he was in.
And thus "Losing My Religion" was born.
"I decided to make the protagonist (Rishi Rai) of my book go on a journey; I could live that life and that freedom through him, I reasoned. On May 22, 2009, I wrote the first chapter, and, I'd like to believe, my life changed that day," Bangalore-based Mudagal told PTI.
"I literally lived with the characters, created a parallel universe, wrote-rewrote-bled through 14 versions of the story with 150 plus drafts. Storytelling became my passion," he says.
Rishi, the main character in the book published by Fingerprint, draws heavily from the author's life and his experiences.
"The beginning of the story is autobiographical because I made Rishi to be in the same situation that I was when I went bankrupt. But it ends once he decides to quit everything and go with Alex on an uncharted journey across India. Rishi later became a character of his own," says Mr Mudagal, currently CEO and co-founder of technology firm GoodWorkLabs.
"Rest of the story after they reach Malana is pure imagination, but influenced by people I have met, places I have visited, incidents in my life or my known ones, or stories I have heard growing up. Also there were years of research. 'Losing My Religion' involved a lot of research, from Malana to Om Beach to Kumbh to reality shows, and so on," he says.
According to him, "Losing My Religion" is a story of the global youth, written in a perspective never attempted before. "It cuts across several genres, and has adventure, thrill, romance, bromance, suspense, entrepreneurship, business, reality shows, enmity and revenge all wrapped into a powerful story. And it's a book that inspires people to never give up, never be afraid to fail, and never stop having fun in your life. It's a book of hope," he says.
Encouraged by the response to his debut book, Mr Mudagal says he will continue to write "meaningful stories that entertain the heck out of the readers".
He also says he will continue to build innovative companies and products as entrepreneurship is in his blood and gives him great adrenalin rush.
"Losing My Religion" was born in very interesting circumstances.
"It all started five years ago, in 2009, when my Internet start-up went through a rough phase. Although we had managed to get good user traction to our website, we couldn't monetise it effectively. I was almost broke. It wasn't easy to just move on and I didn't have the energy and the money to start a new venture," he recalls.
"One of those days, I happened to talk to an ex-colleague,who told me that he was taking a sabbatical and going on a year-long journey on his bike across India. I was left amazed listening to this, and instantly wanted to do that myself...go away, kill all the tension inside me, and look at everything else later on. But I couldn't do that for a host of reasons."
And then the strange idea of writing book on the situation he was in struck him.