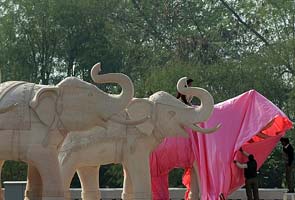 Noida/Lucknow:
They have been given time till 5 pm on Wednesday by the Election Commission and UP's jumbo cover-up operation has only just begun. Authorities in Lucknow and Noida have started draping giant statues of Uttar Pradesh chief minister Mayawati and the elephant, the symbol of her Bahujan Samajwadi Party (BSP) in pink - plastic for the elephants, cloth for Mayawati.
Most of Monday was spent on working out finer details like which agency will have the honour of covering up the many stone elephants and 11 massive Mayawati statues across the state; and in strategy sessions to decide what colour the plastic used should be. Pink won.
Work began late also because the height of these structures make the veiling a gigantic task. In Lucknow alone, there are nine Mayawati statues and 25 elephants along with innumerable elephant-shaped door handles, Mayawati pillars, the Mayawati chakra, and elephant fountains of different shapes and sizes. Till late on Monday, the authorities were still figuring out from where they should begin this 'elephantine' task.
"We are still discussing who will do it," said Arvind Trivedi, the General Manager of the Uttar Pradesh Rajkiya Nagar Nigam on Monday. On Sunday, the Noida Authority ran out of plastic to cover the statues, after which some 1,500 metres of it was ordered to avoid further embarrassment. The Noida park, unveiled with considerable fanfare only a few months ago by the chief minister, has two Mayawatis and 52 elephants that will need draping.
The Election Commission's order to cover up the statues ahead of the assembly polls has sparked off a debate with many political parties, including Mayawati's rivals, saying they are bewildered by the order. JD (U) leader Sharad Yadav, who is also the convenor of the National Democratic Alliance (NDA) which includes the BJP, the fourth political angle in the UP elections, said, "We don't know on whose advice this decision has been taken. Those are statues and especially the elephants; you go anywhere in India, you go to Khajuraho, Konark, elephants will look like elephants...These are nonsensical talks even if Congress says so or Mayawati says so. This is utter nonsense."
And the BSP's SC Mishra asked, "Will the Election Commission also ban the cycle during the elections in the state?" The bicycle is the symbol of Mayawati's archrival Mulayam Singh Yadav's Samajwadi Party.
The Election Commission has defended its decision, saying this is to ensure free and fair elections, but many have expressed skepticism over whether it will achieve its purpose. "A covered Mayawati statue will get more attention than an uncovered one. People will say, 'Oh that is Mayawati's statue covered,'" tweeted actor Anupam Kher. And author Chetan Bhagat said, "Either you don't let them erect statues first place, or let them be. Poor people need blankets more than the statues need drapes. Doesn't draping the elephant statues in Lucknow bring even more attention to them?"
"I think those who want to draw inspiration from it have been doing it for that long, you think they will forget it in the next two months, and the people of UP are smart voters," said Ranjana Shukla, a tourist at the Lucknow memorial.
Get Breaking news, live coverage, and Latest News from India and around the world on NDTV.com. Catch all the Live TV action on NDTV 24x7 and NDTV India. Like us on Facebook or follow us on Twitter and Instagram for latest news and live news updates.