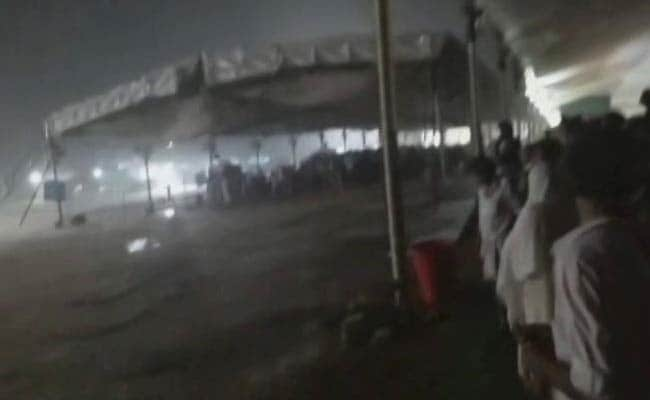 Cloudburst wreaked havoc on Friday evening in Andhra Pradesh's Vontimitta killing four people and injuring over 50. The state government had planned to organise Sita Rama Kalyanam at the Konda Rama Swamy temple, 450 km from state capital Hyderabad, as part of the ongoing Sri Ram Navami festivities.
Two people were killed as sheds near the stage collapsed. Their identities are yet to be confirmed by authorities. Many were injured and children were missing in the chaos that followed the cloudburst, officials said.
Bad weather forced Chief Minister N Chandrababu Naidu and his wife to remain confined to the guest house at Kadapa, reports said. They finally could reach the venue well past 9 pm.
Elaborate arrangements were made for the Sita Rama Kalyanam by the Tirumala Tirupati Devasthanam. Devotees had thronged the temple in large numbers to be a part of the Kalyanam on Friday evening. But sudden heavy rain coupled with strong winds, lightning and hailstorm pounded the area.
The hailstorm began around 6:15 pm and continued till 6:45 pm. Trees and electric poles were uprooted, and sheds collapsed, leaving hundreds of people stranded in bad weather.
Electricity supply was disrupted and people panicked, unable to find a way to escape.
Reports suggest over 1,300 Srivari Sevaks and 800 scouts were deployed to assist the pilgrims.