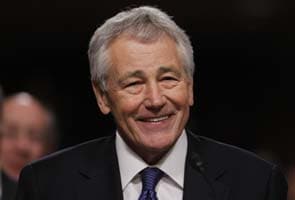 Washington:
The Senate confirmed Chuck Hagel as secretary of defense on Tuesday after a bruising bout with Republicans, while President Barack Obama's choice to be Treasury secretary headed to the floor with bipartisan support, suggesting that the Republican blockade against the administration's second-term nominees was beginning to ease.
After escaping a filibuster from members of his own party, Hagel, a former Republican senator from Nebraska, prevailed in a 58-41 vote - the narrowest margin for any defense secretary on record.
Hours earlier, the Senate Finance Committee approved the nomination of Jacob J. Lew as Treasury secretary on a 19-5 vote. With those nominations advancing, attention turned to the Senate Intelligence Committee vote in the days ahead on the president's nominee to be director of the CIA, John O. Brennan.
The chances for Brennan remained good, though his confirmation is not expected to be entirely smooth, as both Republicans and Democrats have raised objections over the agency's use of drones to kill U.S. citizens suspected of terrorism.
Sen. John McCain of Arizona and Sen. Lindsey Graham of South Carolina also have threatened to hold up Brennan's nomination over questions about the attack last year on the U.S. diplomatic mission in Benghazi, Libya. Both men made similar demands of Hagel, who, unlike Brennan, has had no role in formulating the Obama administration's national security policies.
Sen. Rand Paul of Kentucky, a Republican, has asked Brennan to answer questions about the government's use of drones and Sen. Ron Wyden, D-Ore., said Tuesday that he thought the confirmation process should continue to play out and indicated that he was willing to help delay it until Brennan answers further questions about drones.
Republicans in the Senate, joined by an array of conservative activists, have waged an all-out campaign to discredit Hagel that included digging into his financial records for evidence that he was paid by anti-American groups and scouring his old speeches for signs that he was hostile to Israel. Those efforts produced little, forcing most Republicans to acquiesce.
But even before Hagel takes office, questions are growing about whether the fight over his confirmation will wound his ability to lead the Pentagon at a time of upheaval both at home and overseas. With a series of huge budget cuts known as the sequester set to go into effect at the end of the week - cuts that will fall hard on the Defense Department if Congress cannot negotiate a compromise - Hagel will inherit myriad challenges.
Just four Republicans voted for his confirmation _Thad Cochran of Mississippi, Mike Johanns of Nebraska, Paul and Richard Shelby of Alabama.
Much of the debate over Hagel's nomination focused on previous statements he made on Middle East policy, as well as his readiness to lead the Defense Department. Democrats have said that Hagel was a strong pick for the job, considering his background in public office and as a soldier in the Vietnam War. They said that the Senate needed to clear Hagel's nomination so he could get to work at the Pentagon, given national security issues around the world and pending budget cuts at home.
Republicans said they believed that a shaky performance by Hagel at his confirmation hearing and his past statements on Israel and a variety of other issues had disqualified him.
Earlier on Tuesday, John Cornyn, the No. 2 Senate Republican, said Hagel's worldview was "dangerously misguided," and he warned that the nominee was ill prepared to handle such a major post. "I don't think we want a secretary of defense that has to learn on the job," he added.
But Sen. Harry Reid, the majority leader, accused Republicans of stalling the nomination earlier this month for political gain.
"What has their filibuster gained? Twelve days later, nothing has changed," he said. "Senate Republicans have delayed for the better part of two weeks for one reason and one reason only: partisanship."
The action in the Senate on Tuesday will help bring to a close one of the most unusually contentious Cabinet-level nomination fights in years, a clash that surprised many in Washington for how personal and bitter it became considering that Hagel, a Republican senator for two terms, worked alongside many of his antagonists until just four years ago.
© 2013, The New York Times News Service